Shingle Style: Living in San Francisco's Brown Shingles
by Lucia Howard and David Weingarten ; photography by David Duncan Livingston
Foreword by Daniel P. Gregory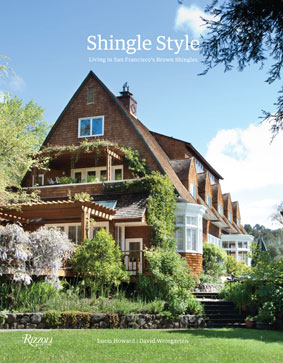 Who knew a modest rectangular piece of wood would have such meaning and complexity? Before showing exquisite examples of "Brown Shingles" (as such houses are known) from the Bay Area, the authors trace a serious architectural and social history of the seemingly ordinary building material. Its East Coast use on summer mansions for the wealthy displayed traces of conspicuous consumption. In Northern California, however, shingles were representative of social causes, poetry, and "bohemian rusticity."

Generous spreads of houses built from 1891 to 1913 show new photography along with, in most cases, an archival reference image. Detailed close-ups of the wood elements themselves could almost be considered "shingle porn" for their sensual appearance. A postscript chapter shows shingles used in homes from 1966 to the present, displaying both modernist idioms as well as idiosyncratic applications.

A touching last chapter pays tribute to the architectural historian John Beach (1935-1985), who pioneered the study of the Bay Region Style. Eccentric in both dress and behavior, he nevertheless communed with such architectural luminaries as Bruce Goff, Esther McCoy, David Gebhard, Charles Moore, and Charles Jencks. With this coda, the authors stress that "without historians, there is no history."

Rizzoli New York, hardcover; 208 pages; $50.