Gordon B. Kaufmann
by Marc Appleton
Bret Parsons, and Steve Vaught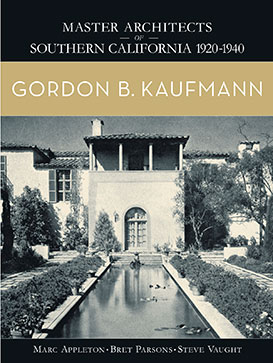 Gordon B. Kaufmann is a fitting subject as the first architect to be featured in the series "Master Architects of Southern California, 1920-1940." As the architect of the quintessential Los Angeles mansion Greystone, for legendary client Ned Doheny, in the ritzy city of Beverly Hills, a large part of Kaufmann's legacy is tied to LA's financial and real estate history. The book, written by architect Appleton, architecture real estate broker Parsons, and author Vaught, shows 18 homes and three commercial projects. All projects are shown through facsimile pages of The Architectural Digest, even the non-residential Scripps College for Women, Caltech Athenaeum, and Santa Anita Park.

Tailwater Press/Angel City Press, 2016, 208 pages, hardcover, $60.