Architects' Houses
by Michael Webb, Hon. AIA/LA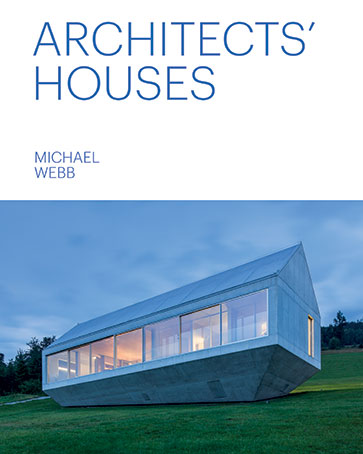 Though some may contend that restraint breeds the best design, they would change their views upon seeing this collection of homes, where architects have no client demands binding them, and they create with brilliant abandon. "But the temptation to take risks," writes Webb in the introduction, "is tempered by the realization that they will have to live in their creations and accept full responsibility for any shortcomings." The homes selected by Webb, one of our more prolific design writers, are by and for an international roster that "share(s) a keen appreciation of nature and the urgent need to reduce their carbon footprint."

Webb is based in Los Angeles, and shows four California projects from LA regulars Thom Mayne, FAIA, Buzz Yudell, FAIA, and Tina Beebe, Kulapat Yantrasast, and Scott Johnson, FAIA. Interestingly, in the contextual essay, "Drawing on the Past," he discusses ideas and experiments of architects' own homes starting with Thomas Jefferson, FAIA, though most of the US architects featured are from Southern California, where no one can argue the advances of single-family architecture. Schindler, Neutra, Eames, Frey, Kappe, Gehry, Hertz, Myers, and Ehrlich are noted for their contributions.

Formal elements that unite this global collection are glass, light, vertiginous spaces, and treacherous stairs, along with mostly modern classic furniture by Jacobsen, Saarinen, Breuer, Corbu, Aalto, and, of course, Eames (10 out of the 30 homes have at least one Eames chair design). But innovation is at the heart of these houses. "If you stick to the building code, you will produce coded architecture. It's essential to push the envelope," says Antón Garc?a-Abril, a Spanish architect who proves this through homes in Madrid and the US designed with wife and partner Débora Mesa. The most thrilling part of this book is seeing the unfettered imagination of the architects translated into beautiful and daring realities.

Princeton Architectural Press; 2018; 304 pages; hardcover; $50.