Mod Mirage: The Midcentury Architecture of Rancho Mirage
by Melissa Riche ; photography by Jim Riche
foreword by Brad Dunning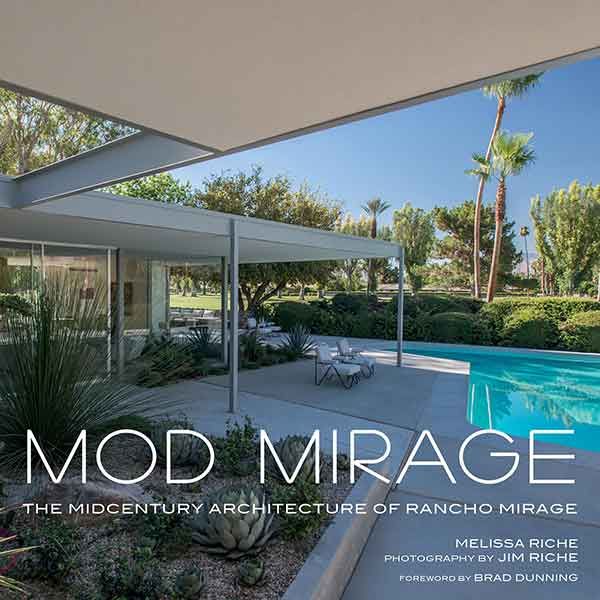 I'm always seduced by old marketing literature promoting the California lifestyle, so I was pleased by the wealth of documentation that Melissa Riche uncovered to set the scene for this beautiful book on midcentury Rancho Mirage, just east of Palm Springs. Celebrity-fueled country club communities hosted the likes of Bing Crosby, Frank Sinatra, Lucille Ball and Desi Arnaz, and Hoagy Carmichael—as well as such titans of industry as Walter Annenberg and Leonard K. Firestone—in midcentury beauties by well-known desert greats (William F. Cody, FAIA, Donald Wexler, FAIA, William Krisel, AIA, Conrad Buff, FAIA, Donald Hensman, FAIA, et al.). Each property is introduced by new black-and-white image spreads; though contemporary photos by Jim Riche, they beautifully set a retro tone. Both monochrome and color photos explore the projects, artfully merging a notion of the past with the present, hitting home the importance of midcentury preservation, which was one of the impetuses for the Riches doing such a book. Given that initial spark, however, it is disappointing that restoration architects are very rarely mentioned (egregious exclusion is Frederick Fisher Partners in the Sunnylands chapter). Riche's original photography is augmented by images from various archives, including some Julius Shulman photos, vintage postcards, magazine spreads, and construction shots. A sad postscript features a few homes lost to the wrecking ball.

Gibbs Smith; 2018; 208 pages; hardcover; $45.