Ehrlich Yanai: Outside-In—New California Modernism
by Nancy Griffin; Introduction by Zahid Sardar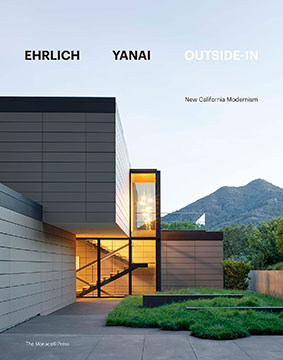 Recipient of the 2015 Firm Award from the American Institute of Architects, EYRC Architects has worked in a multitude of typologies. This book focuses on 15 single-family residences by the E (Steven Ehrlich, FAIA) and Y (Takashi Yanai, FAIA). The projects span from the northern town of Ross in Marin County, to the southern enclave of Laguna Beach, with a brief detour to Houston, where the client desired that "California spirit." Sardar's essay, "The Nature of Houses," frames the work through California modernist history, along with seminal influences of African culture, Japanese architecture, and minimalist art. After a few brief descriptive paragraphs and a spread of architectural drawings, caption-less photos show the homes in sun-drenched glory. Strongly emphasizing the photography does exactly what the book attempts: to seduce observers by placing them into the space between building and landscape.

The Monacelli Press, 2019, 240 pages, hardcover,$60.