Gas and Glamour: Roadside Architecture in Los Angeles
by Jack Esterson, Craig Kellogg, Sherri Littlefield, and Ashok Sinha ; photography by Ashok Sinha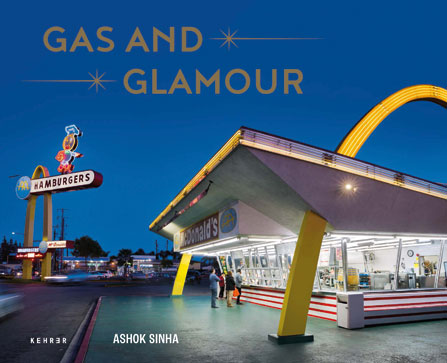 Photography by Ashok Sinha; texts by Jack Esterson, Craig Kellogg, Sherri Littlefield, and Ashok Sinha

You know how you can listen to song that you've known the words to for decades and then suddenly hear it in another way? That's the effect of paging through Sinha's photos of familiar Southern California roadside sites. An architectural and fine art photographer, Sinha wanted "to capture L.A.'s car-culture-induced optimism and ambition reflected in polychromatic, star-spangled coffee shops, gas stations, car washes, and other places that once lured the gaze of passing motorists." Taken mostly at the photographic "magic hour" when the sky is at its most luminous and the neon starts to pulse, images of Randy's Donuts (Henry J. Goodwin, 1953), Bowlium (Gordon Powers, 1958), Bob's Big Boy (Wayne McAllister, 1949), Casa de Cadillac (Randall Duell and Philip A. Conklin, 1949), and Union 76 (Gin Wong, FAIA, 1965) glow in romantic nostalgia. Few people appear in the images, casting an additional eerie stillness, similar to the loneliness that drips from an Edward Hopper painting. For the intrepid reader wanting to embark on a self-driven tour, the book ends with an illustrated index—with many views whimsically taken from Sinha's driver's seat—along with addresses and QR codes for Google Map directions. As a self-proclaimed early-morning diner hound, I've spent countless hours and omelettes at Armet & Davis' Norms (1957) and Mel's (1953), but never saw them this way before. Take a look for yourself.

Kehrer Verlag, 2020, 72 pages, hardcover, $45.