Authors on Architecture: Lautman on the Stepwells of India
SAH/SCC Zoom Lecture
Saturday, October 10, 2020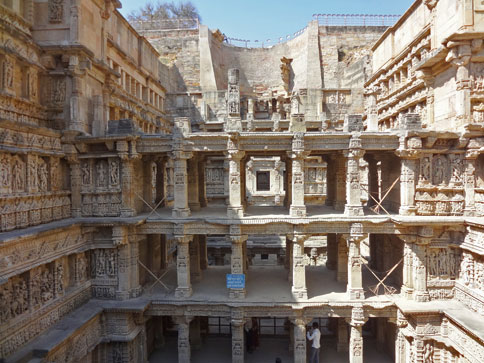 CLICK HERE to purchase video of the event ($5).

Tune in for a trip to India that is sure to be enlightening! The journalist Victoria Lautman first encountered stepwells three decades ago and now, a seasoned traveler to India, she has devoted several years to documenting these fascinating, but largely unknown, edifices. Her book, The Vanishing Stepwells of India (Merrell Publishers, 2017; released in paperback, 2020), assures they won't be forgotten.

Stepwells are ancient water stores and some of the most stunning architectural structures in India. Found below ground, stepwells are unique to India and date from around the 3rd century CE. They were built throughout the country, particularly in the arid western regions. Excavated several stories underground in order to reach the water table, these cavernous spaces not only provided water all year long but also fulfilled other functions, such as offering pilgrims and other travelers a respite from the heat and becoming places where villagers could socialize. Stepwell construction evolved so that, by the 11th century, the wells were amazingly complex feats of architecture and engineering.

Of the thousands of stepwells that proliferated across India, most were abandoned as a result of modernization and the depletion of water tables. Often commissioned by royal or wealthy patrons, the wells vary greatly in scale, layout, materials, and shape. Those in what is now Gujarat state also served as subterranean Hindu temples with columned pavilions and elaborate stone carvings of deities. Islamic wells were generally less flamboyant, but incorporated arched side niches. Today, few stepwells are in use. The majority have been left to silt up, fill with rubbish, and crumble into disrepair. Gradually, however, the Indian government and heritage organizations have come to recognize the need to preserve these architectural wonders. In 2014 India's best-known stepwell, the Rani ki Vav in Patan, northern Gujarat, became a UNESCO World Heritage site.
CLICK BELOW TO ENLARGE THESE IMAGES