Vest Pocket Pictures: Julius Shulman
Art, Design and Architecture Museum, UCSB
Saturday, April 27, 2019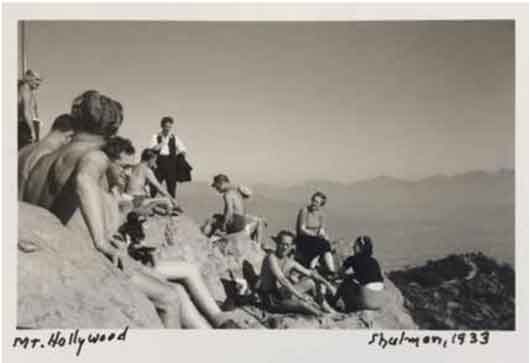 Join SAH/SCC Life Member and Shulman's daughter, Judy McKee, for a behind-the-scenes tour of these very personal pictures by renowned architectural photographer, Julius Shulman. When Los Angeles was young, Shulman roamed the land with his Vest Pocket Kodak, a compact, folding camera. He captured people, industry, and fun.

These are the early works of one of the most revered architectural photographers of the modern era. Known especially for a far-reaching catalog documenting the mid-century modernist architecture, the rarely seen images in this exhibition show another side of the artist.

With impeccable control of light, timing, and framing, the young Julius Shulman (1910-2009) captured life in Los Angeles including, friends, hikers, "Hollywoodland," refinery tanks, oil derricks, roads under construction, and more. Through these images one can see the promise of Los Angeles and the talent that would become Julius Shulman.

Participants will also be able to view the new show: Common Bonds: Artists and Architects on Community during a special behind-the-scenes walk-through with Dr. Silvia Perea, the new curator of the Architecture and Design Collection. For architects, community is created through planned developments or proposals for public spaces. Join us as we explore the work of Gregory Ain, Roberto Benavidez, Karon Davis, Fritz Eichenberg, Asad Faulwell, Ja'Tovia Gary, Pablo Helguera, James Hill, Peter Hujar, Joseph S. Melchione, Ruben Ochoa, Aminah Robinson, Julius Shulman, Jean Swiggett, Pipo Ngyugen-Duy, Richard B. Taylor, Juane Quick-to-See, and Kara Walker.

This event is self-driven so participants may extend their trip to Santa Barbara. Tickets are $20 for members, $30 for non-members.

We regret that this event is not suitable for people who cannot stand for long periods of time or require the assistance of a service pet.
CLICK BELOW TO ENLARGE THESE IMAGES