R. Buckminster Fuller: Inventions & Models
SAH/SCC Gallery Tour & Talk
Sunday, October 07, 2018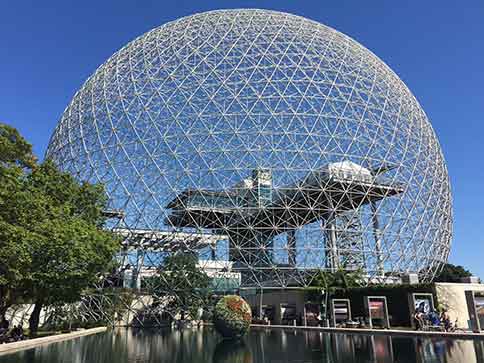 SAH/SCC Life Member Ed Cella takes us on a behind-the-scenes tour of the new exhibition "R. Buckminster Fuller: Inventions and Models" at the Edward Cella Art & Architecture Gallery in Los Angeles.

The exhibition features models and drawings typically kept in private collections, and represents an opportunity to reflect upon Fuller's comprehensive perspective on the world and humanity. The show will focus on the AIA Gold Medal-winning architect's "Inventions Portfolio," a limited-edition print collection of pioneering design innovations.

"Bucky" Fuller, FAIA (1895-1983), is best known as the architect associated with popularizing Geodesic dome homes and buildings in the postwar period. He achieved notoriety with his design for the Dymaxion House during the mid 1940s. He was also a theorist and prolific author, who published more than 30 books.

One of his best-known buildings is the US Pavilion for Expo '67 in Montreal, Canada. The iconic structure, known now as the Biosphere, came to represent the modern age.

SAH/SCC members will remember Cella from a similar program in 2017 featuring the work of Lawrence Halprin, FASLA (1916-2009). Cella is a dynamic presenter who makes complex ideas and material accessible—the perfect guide to Fuller's genius. Enjoy a thoughtful discussion and light refreshments.

CLICK BELOW TO ENLARGE THESE IMAGES