Harwell Hamilton Harris
Tour and Salon, Sierra Madre
Sunday, May 20, 2018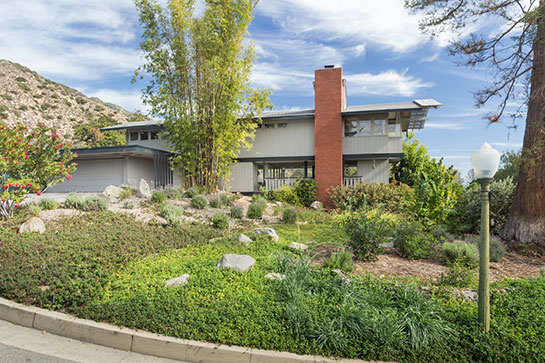 The SAH/SCC, in partnership with Berkley, Lander & Lamprecht/Deasy Penner & Partners, presents an afternoon of dialogue about architecture and ideas featuring the works of two architects of different generations and similar minds: Harwell Hamilton Harris, FAIA (1903-1990) and John T. Lyle, AIA, FASLA (1934-1998).

Family members of John T. Lyle will be on hand to introduce our group to the J.J. Mulvihill Residence (1949, Harwell Hamilton Harris) and the John T. Lyle Studio (1986, John T. Lyle) – two structures that share a hillside site in Sierra Madre.

Harris, an early student of Frank Lloyd Wright and apprentice to Richard Neutra, is most widely known for his house for John Entenza (1937) in Santa Monica Canyon. The Mulvihill Residence is another exceptional example of Entenza's brilliance at siting and a tour de force in his preferred material: wood.

John T. Lyle, architect, landscape architect and professor of landscape architecture at Cal Poly Pomona designed a free-standing studio on the site as well as a series of garden areas that connect the two buildings.

Author, and SAH/SCC Life Member Barbara Lamprecht, PhD may be on hand for the event as well. According to Lamprecht, "Both buildings are good examples of how the past can inform the present without dictating it. The Mulvihill House is among a group of postwar houses that Harris designed that claim the rustic refinements of California architects Bernard Maybeck and Charles and Henry Greene and builder Louis B. Easton, characterized by natural redwood siding, low hipped or gable roofs, groups of windows, brick and stone … but is nonetheless Modern." Lamprecht will also share how Lyle drew on the Harris building for inspiration — with a decidedly different architectural language.

Join us for a memorable afternoon of modern architecture. Light refreshments will be served.
CLICK BELOW TO ENLARGE THESE IMAGES