Soriano: Romantic Technologist
SAH/SCC Salon, Long Beach
Sunday, October 15, 2017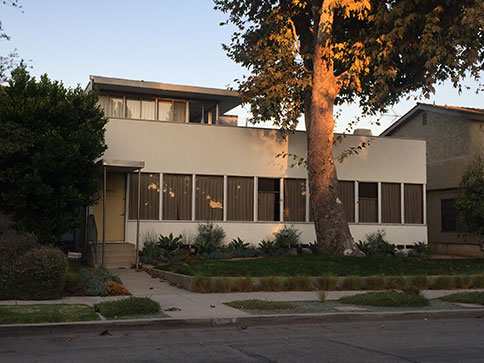 SAH/SCC Life Members and Patrons are invited to a special afternoon exploring the 1940 Kimpson/Nixon Residence by Raphael Soriano, FAIA, in Long Beach. The program will include a discussion about the history and architecture of the residence by owner/architect, Alan Pullman, AIA, founder of Studio One Eleven, and his wife Stephanie Pullman.

"The Kimpson/Nixon Residence is regarded as one of Soriano's purest achievements in International Style residential architecture," explains SAH/SCC Board Member and event organizer, Mark Piaia, AIA. Located in what is now the prestigious neighborhood of Alamitos Heights, the home is noted for its dramatic geometric form, which was created to fill the interior with natural light through a horizontal band of windows that runs the length of the structure.

Soriano directly oversaw the building of the home, which he designed for indoor-outdoor living in the Southern California climate. He reportedly designed the house during a six-month hospital stay after a car accident; this may have helped inspire him to create a house with first-floor lagoon view and a second floor with a sightline stretching all the way to the Pacific Ocean.

The Rhodes-born Soriano (1904-1988) is best known as an architect featured in the Case Study House Program ofArts + Architecturemagazine. Renowned architectural historian Esther McCoy called Soriano "a romantic technologist," where "music and architecture are one to him." Of all of the architects photographer Julius Shulman could have selected to design his own home, Shulman picked Soriano. During the SAH/SCC "Modern Patrons" event at his home, Shulman explained: "If you hire Neutra, you get a Neutra house; if you go with Schindler, you don't know what you'll get; if you hire Soriano, you get your house."

Don't miss the opportunity to experience a wonderfully intact and a truly remarkable example of Soriano's International Style residential designs.
CLICK BELOW TO ENLARGE THESE IMAGES