A "Brand" New Library Awaits
Panel Discussion and Tour, Glendale
Sunday, July 13, 2014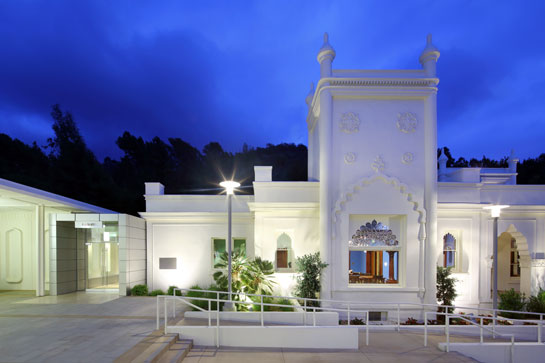 Join SAH/SCC for a tour and panel discussion on the rehabilitation and restoration of Glendale's Brand Library & Art Center. Designed by Nathaniel Dryden in 1904, the building known as "El Miradero" was the former home of Leslie C. Brand, Glendale's "George Washington," and his wife, Mary Louise. Modeled after the East Indian pavilion at the World's Columbian Exposition of 1893 in Chicago, this exotic—now iconic—landmark is one of the more fascinating structures in Southern California. This program is co-sponsored by the Brand Library & Art Center.

Since its conversion to an arts library in 1956 (Raymond Jones), it has served the people of Glendale well, but much historic character was lost at that time and more has eroded since. This was particularly true of the interior, which offered only sporadic glimpses of the Brands' life in the house and bore the unmistakable imprint of an "institutional" makeover.

The recently completed rehabilitation and restoration by Gruen Associates and Offenhauser/Mekeel Architects is a great success, bringing a strong sense of the house as the Brands knew it to a modern, state-of-the-art library. New ceiling paintings stunningly recreate those hidden and damaged by acoustic "popcorn" for more than 50 years. New mechanical systems, lighting, data lines, seismic reinforcement, and vastly improved ADA access are seamlessly built into the historic building. Readers can now lounge in rooms that recall the domestic life of an earlier era.

Join us to learn more about this complicated project and how the design team balanced historic preservation with the need to create a safe and functional library. A new entry structure had to appropriately link the 1904 mansion with a 1969 addition (Jones and Walton). Questions of whether to restore or rehabilitate arose on a regular basis. Resolution was achieved by a remarkable design team led by Debra Gerod, FAIA, Partner at Gruen Associates, in close collaboration with preservation architect Fran Offenhauser, Principal of Offenhauser/Mekeel. Working closely with the library's staff, along with multiple subcontractors and trades people, the designers' work allows the Brand Library & Arts Center to return to its past while ensuring its future.

In addition to architects Gerod and Offenhauser, the panel includes Cindy Cleary, Director of Library, Arts & Culture, City of Glendale; Carolyn Flemming, Library Services Administrator, City of Glendale; and Tom Bilisoly, Senior Artisan-Conservation, Spectra Company. The discussion will be moderated by SAH/SCC Board Member Jay Platt.

A self-guided tour of the building and light refreshments will follow the panel discussion. This event is free, but limited capacity requires an RSVP.
CLICK BELOW TO ENLARGE THESE IMAGES