The Spirit in Architecture
SAH/SCC Film & Talk: Downtown
Saturday, July 31, 2010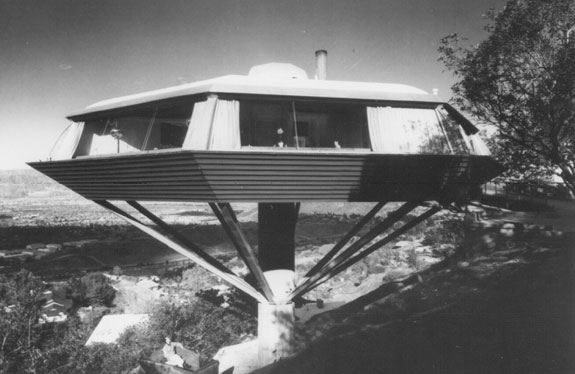 Filmmaker Bette Jane Cohen presents "The Spirit in Architecture: John Lautner" in a special screening co-presented by SAH/SCC and the Southern California Institute of Architecture (SCI-ARC). The presentation - followed by a panel discussion-will take place at SCI-ARC (Gary Paige, 2000) in Downtown LA.

The film journeys into Lautner's world with footage from his apprenticeship with Frank Lloyd Wright at Taliesin, extensive documentation of his extraordinary buildings, interviews with historians, critics, collaborators, and clients, and engaging footage of Lautner himself.

After discovering Lautner's work for herself and getting the opportunity to meet him, Cohen recalls: "He was speaking about many ideas he wished he could show visually. I thought film would be a wonderful way to portray these ideas, to portray the complex flowing spaces, and to describe the creative forces behind them." She started the film in 1988, documenting Lautner's buildings, contemporaries, and collaborators, and it premiered in 1991 at the Museum of Contemporary Art, LA. "John was great to interview," Cohen continues. "I loved talking to him about intangibles: integrity, justice, honor, truth, and beauty. John lived by his philosophy."

Following the screening a lively group will come together to discuss Lautner's work on film and off: award-winning filmmaker Cohen, who is currently working on "In Search of a Living Architecture," a documentary on architect Albert Frey; architect and film co-writer Tom Marble of Marble Architecture, whose romantic comedy about architecture and urbanism is called "After the city, this (is how we live)"; script consultant and co-producer Evelyn Wendell, who has worked at Paramount Studios in feature film marketing and feature film development; author, historian, and architect Alan Hess, who writes regularly for the San Jose Mercury News and continues to publish books on residential and commercial Modern architecture and architects; and Lautner scholar Jon Yoder, who is currently preparing his UCLA doctoral dissertation as a book titled Widescreen Architecture: The Immersive Visuality of John Lautner.
CLICK BELOW TO ENLARGE THESE IMAGES