Contemporary Patrons: Istanbullu in Beverly Hills
SAH/SCC Talk and Tour 2-5PM
Sunday, November 22, 2009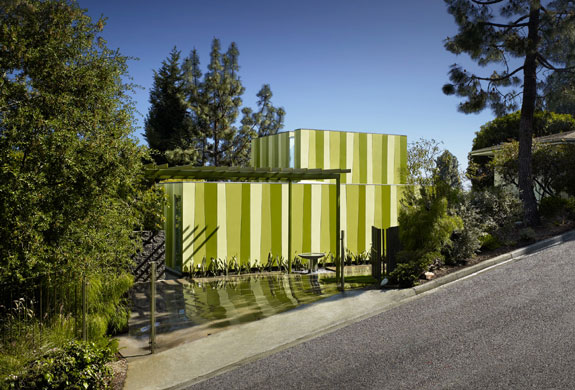 Contemporary Patrons heads to the Hills (of Beverly) on Sunday, November 22, 2009, 2-5 PM. We will join clients Paul and Dorrie Markovits and their architect Aleks Istanbullu, AIA, for a spirited dialogue about the creation of a second structure on the Markovits's land in Beverly Hills. This event is reserved for Patron and Life Members on a first-come first-served basis. Tickets are $10 per person; reservations are limited and will only be opened up to the regular membership should space be available.

The afternoon will focus on the collaboration between architect and client that resulted in the Lago Vista Guest House. This nature-inspired sculptural retreat nestled in a canyon of trees surprises the visitor both inside and out. The skin of the Lago Vista Guest House is made of vertical stripes, varying in width and with small subtleties in their shape. The shades of green, which can be seen as "blades of grass," were just one of several design decisions discussed between architect and client.

The Guest House, visible from different vantage points on the land, presents artistic sculptural qualities with both horizontal and vertical sensibilities embraced. A series of granite pavers, selectively placed as landing pads, connote a watery walkway into a space of rest and repose. An interior passage leading from one volume to another is exaggerated by a stair framed by floor-to-ceiling and across-the-ceiling windows.

The architect envisioned a two-volume structure, with the smaller volume serving as kitchen, bedroom, and bathroom wing, while the larger cube creates a peaceful open space. A 16-foot-high wall of design books inside the larger space inspires visitors to look up. Then, the eye is drawn outside by an "upside down skylight" that cantilevers over the hillside, creating an experience of both being in nature and floating over it.
CLICK BELOW TO ENLARGE THESE IMAGES