Architecture in Film
SAH/SCC Film Screening and Talk
Saturday, July 11, 2009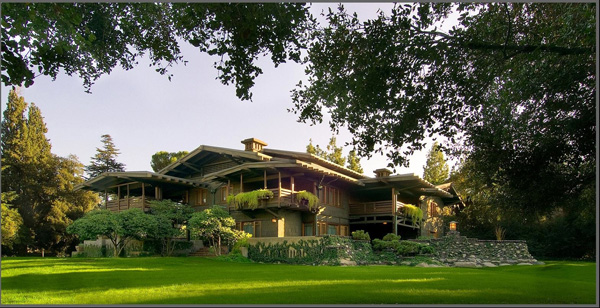 Join SAH/SCC on Saturday, July 11th, at 1PM, to celebrate the newly released major documentary Beautiful Simplicity: Arts & Crafts Architecture in Southern California. This 86-minute, widescreen production examines the profound effects of the Arts & Crafts movement on both the physical and cultural development of Southern California in the late 19th and early 20th centuries. Filmmaker Paul Bockhorst will be present to discuss the production and his series on the Arts & Crafts movement in California. The event is free, and reservations are not required, however seats will be available on a first-come, first-served basis, at the Santa Monica Public Library (SMPL), 601 Santa Monica Blvd.
Beautiful Simplicity introduces viewers to the work of a dozen notable architects who were influenced by Arts & Crafts ideals. They include Charles and Henry Greene, Sylvanus Marston, Arthur and Alfred Heineman, Frederick Roehrig, Sumner Hunt, Arthur Benton, Myron Hunt, Irving Gill, Frank Mead, and Richard Requa, many of whom worked in collaboration. The documentary also looks at the influence of John Ruskin and William Morris, the leading voices of the Arts & Crafts movement in Britain, and Gustav Stickley and Elbert Hubbard, two major promoters of Arts & Crafts values in America. The passionate advocacy of local leaders like Charles Fletcher Lummis and William Lees Judson is also considered.
The documentary features more than 40 important Southland structures: Lummis House ("El Alisal") in Los Angeles by Lummis and Hunt; The Mission Inn in Riverside by Benton; Arturo Bandini, Duncan-Irwin, and Gamble Houses in Pasadena by the Greenes; Arthur Jerome Eddy House in Pasadena by Roehrig; Curtis Ranch in Altadena and Volney-Craig House in Pasadena by Louis B. Easton; St. Francis Court, Sylvanus Marston House, and Henry and Clara Lacey House in Pasadena by Marston; Bowen Court, Parsons Bungalow, and Hindry House in Pasadena by the Heinemans; and Polytechnic School in Pasadena by Myron Hunt and Elmer Grey.
The section on San Diego includes several structures by Gill: George White and Anna Marston House, Cossitt House, Russell Allen House, First Church of Christ Scientist, and La Jolla Woman's Club. The important Wheeler Bailey house in La Jolla, designed by Gill and Mead, is also featured, as are several projects by Mead and Requa, his later partner. Mead and Requa projects seen in the documentary include Brackenbury Residence, Robert Winsor House, Palomar Apartments, and Hopi House, as well as Krotona Institute of Theosophy in Hollywood.
Beautiful Simplicity also highlights the significance of the Craftsman bungalow, which was the most important contribution of the Arts & Crafts movement to American architecture. Bungalows provided comfortable and well-designed housing at a modest price, thus helping democratize home ownership in the U.S.
Beautiful Simplicity is the second installment in a series by Bockhorst that chronicles Arts & Crafts architecture in California. The first in the series is Greene & Greene: The Art of Architecture (2005), which will screen at SMPL later this summer.
As with Greene & Green, Beautiful Simplicity was produced by Paul Bockhorst Productions in cooperation with SAH/SCC. The program was written, produced, and directed by Paul Bockhorst, and is narrated by Richard Doyle. Principal photography is by Ron DeVeaux, with original music composed by Paul Morehouse. Principal funding was provided by The Ahmanson Foundation and the Joan Irvine Smith and Athalie R. Clarke Foundation.
CLICK BELOW TO ENLARGE THESE IMAGES