Authors on Architecture: Moruzzi on Havana
SAH/SCC Event
Saturday, January 24, 2009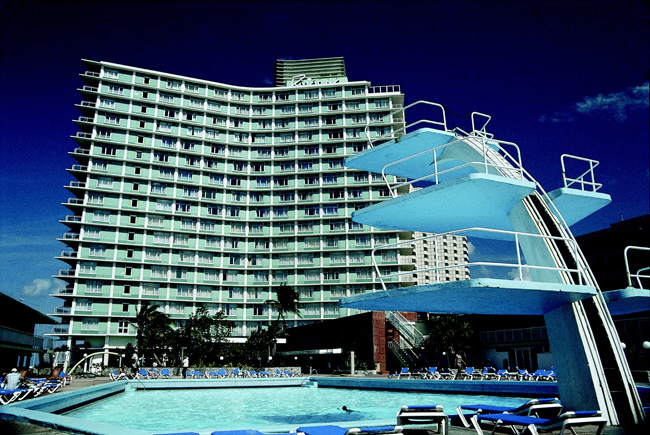 SAH/SCC's Authors on Architecture series is pleased to present architectural historian and SAH/SCC member Peter Moruzzi, who will give a compelling slide talk based on his recent book Havana Before Castro: When Cuba Was a Tropical Playground (Gibbs Smith, 2008). The lecture and photographic presentation will take place on Saturday, January 24th, 2-3:30PM, in the Martin Luther King Room at the Santa Monica Public Library, Main Branch (Moore Ruble Yudell, 2005), at 601 Santa Monica Boulevard. Reservations for the free event are not required.
In the middle decades of the last centurywhen Havana was one of the most fabulous and exciting cites on earthtalented local architects adapted Modernist tenets to Cuba's topography and climate. Moruzzi explores the astonishing result, dubbed Havana Modern, in his book, which will be available for purchase and signing (see review in SAH/SCC News, September/October 2008). An architectural historian by profession, Moruzzi is a long-time preservationist who specializes in Mid-Century Modern architecture and design, and has been fixated with the history of Cuba since 1987.
Moruzzi moved to Southern California from San Francisco in 1990 and soon led the successful effort to designate the Bob's Big Boy restaurant in Burbank as a state landmark and coordinated the multi-year campaign to save the Downey McDonald's. He was Chair of the Los Angeles Conservancy's Modern Committee from 1992 to 1997, and was a Conservancy board member for six years. In 1999, he founded the Palm Springs Modern Committee (PS ModCom), a historic preservation organization that produces home tours, annual preservation awards, and a best-selling tour map of Modern sites, along with advocating for the preservation of Modern properties.
In 2002, Moruzzi received the presidential citation for public service from the American Institute of Architects California Council for his efforts toward preserving Modernist architecture in California. Four years later, in 2006, he wrote and produced "Desert Holiday," a humorous and informative documentary chronicling the history of Palm Springs as seen through vintage postcards.
The event is free to all. So bring a friend or two and perhaps they'll be encouraged to become SAH/SCC members after their virtual trip to Havana!
CLICK BELOW TO ENLARGE THESE IMAGES