Our Executive Board

Sian Winship, President
As a member of the SAH/SCC Board for the past sixteen years, Sian Winship has created numerous educational programs celebrating modern residential architecture in Southern California and across the country including "Out of the Shadow" an exploration of modern architecture in Phoenix after the passing of Frank Lloyd Wright. In 2005, her "Space and Learning" program examined the nexus of modern architecture and early childhood education. In 2011, Sian earned her Masters of Historic Preservation (MHP) from USC. Her professional career is now twofold: as a research consultant to major national foundations on social issues such as community economic development, economic inclusion, affordable housing preservation, transit oriented development and media policy issues and as a freelance architectural historian.
Jay Platt, Vice President
Jay Platt is Planner for Historic Preservation and Urban Design with the City of Glendale Planning Department. Jay spent several years in New York City, where he worked with the New York City Landmarks Preservation Commission, was employed by preservation consultant, Building Conservation Associates, and served as Deputy Director of the Historic Districts Council. Missing California and driven insane by a tiny East Village apartment, he moved back to LA in 2004 and became Preservation Advocate for the Los Angeles Conservancy. Evidence of Jay's charmed life includes finding and renting a Rudolph Schindler designed apartment on Craig's List (but he'd gladly move into the Watts Towers if they become available). Jay is a Los Angeles native who received his undergraduate degree from UCLA and an M.S. in Historic Preservation from the University of Pennsylvania.
Rina Rubenstein, Membership
Rina Rubenstein's family came to Los Angeles a century ago. Her father, a landscaper who took her to his construction sites including UCLA, JPL, & Century City, instilled in her a strong connection with the built environment of Southern California. After high school, Rina moved to Israel to work on a kibbutz, milking cows and weeding cotton. While studying Biblical Archaeology & Classical Art History at the Hebrew University in Jerusalem, she worked summers on excavations and winters in the Israel Museum. Since then, she has held mostly library and information management positions. Currently, she works in metadata management for the digital distribution of film and music. Rina was Treasurer of a SAH/SCC for several years, prior to moving to New York City. Since returning to L.A., she has handled Membership for the Chapter. She lives in a 1913 Craftsman home in West Adams, where she's active in neighborhood affairs. For over 10 years, Rina has written and published the free "Culture Alert," a comprehensive monthly list of free arts and cultural activities in Los Angeles.
John Berley, Treasurer
John Berley has been a Board Member since 1994, and was President of the SAH/SCC from 1996 to 1999. He is an Associate at Frederick Fisher and Partners, Architects and serves as a Landmarks Commissioner for the City of Santa Monica. Over the years, John has created such memorable programs as On Parallel Lines: The Sarasota School of Architecture and the Case Study House Program, Creative Space: Architects Offices, and Beyond the Bauhaus, The Legacy of Walter Gropius. He is also the leader of the ongoing Modern Patrons series, which offers thoughtful dialogue with homeowners who commissioned the modern masters. Additionally, He has written on the early influence of Irving Gill and the Post-War development of Modern Architecture in America.
Jean Baaden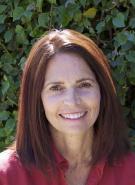 For the last decade, Jean Baaden has been a project manager with the most respected construction companies in Southern California including Winters-Schram and Swinerton Builders. She was formerly a project manager with Marmol and Radziner. Jean has worked on various projects involving city-owned historic structures and has conducted seminars and demonstrations on restoration and preservation. She is a past Advisory Board Member for Friends of the Gamble House, and a longtime docent for the Los Angeles Conservancy, and AIA/LA. After decades of living in Los Angeles, Jean remains inspired by "Los Angeles as a young city so rich in culture and architectural history."
Brent Eckerman, Internet Editor
Brent Eckerman is an architect who has worked in Los Angeles for the past thirty-seven years. He received his architectural degree from Cal Poly Pomona. During his career, he spent many years as a Senior Associate at Frederick Fisher and Partners in Los Angeles. He currently works at Koning Eizenberg Architecture. He has an interest in Modern Architecture and particularly in Mid-Century Modernism. Brent also has a strong background in computer technology and acted as the driving force behind the SAH/SCC Website.
Merry Ovnick
Merry Ovnick is past president of SAH/SCC. She is the editor of the Southern California Quarterly and the author of Los Angeles: The End of the Rainbow (Balcony Press, 1994). She earned her Ph.D. in history at UCLA and she teaches cultural, urban, and regional history at California State University, Northridge. Her period of specialization is late 19th/early 20th century.
Kimberly Bahnsen McCarron
Kim (Bahnsen) McCarron joined the SAH/SCC board after returning home to her native Southern California in 2015. With experience working in historic preservation and architecture across the country, she brings a balanced perspective to projects involving existing buildings as an Architect at Pfeiffer Partners. Kim earned a BA in Architectural studies at the University of Washington and Master of Architecture at the University of Southern California. As a board member, she enjoys learning more about the region's history, architects, and unique properties with each new event.
David Coffey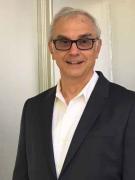 David Coffey is the owner of Richard Neutra's Davis House (1937) in Bakersfield, CA, as well as the steward/caretaker of Frank Lloyd Wright's Ablin House (1959). He has curated and produced multiple historical architecture events in Bakersfield, including "Masters of Modernism: Neutra & Wright in Bakersfield" with SAH/SCC's Sian Winship in October 2009, and "Bakersfield Built: 1930s" in conjunction with CSUB's celebration of the 75th anniversary of the publication of John Steinbeck'sThe Grapes of Wrath. He is currently working on a program with the Bakersfield Museum of Art, CSUB Library Special Collections Department, and the Kern County Museum to curate and produce "Bakersfield Built: 1960s" for Fall 2019. He is a former board member of the Bakersfield Museum of Art and is currently on its Exhibition Committee. David grew up in Cincinnati, OH, and graduated from the University of Cincinnati College Conservatory of Music with a BA in electronic media.
SUPPORT
Julie D. Taylor, Hon. AIA, Newsletter Editor

Julie is Founder/Principal of Taylor & Company, a company providing public relations and marketing services to professionals and organizations involved in architecture, design, and furnishings. A self-described "design evangelist," she has written three books including Spa: The Sensuous Experience (2006); Bars, Pubs, and Cafes (2000); and Outdoor Rooms (1999), in addition to countless articles on design, architecture, marketing, and art. She is the Los Angeles correspondent for ArchNewsNow.com, and is a frequent guest lecturer at conferences and universities. Julie is on the steering committee of CANstruction LA and was the chair of the AIA/LA Design Awards Committee from 2008 to 2010. She was given honorary AIA/LA membership in December 2007, and received an Allied Professions Achievement Honor from AIA California Council in 2012. Julie was the 2014-2016 Public Director on the National AIA Board of Directors, and was granted national honorary AIA status in 2018
Svetlana Petrovic, Newsletter Art Director
An artist and graphic designer, Serbian-born Svetlana Petrovic founded her Santa Monica-based design studio in 2001. A "designer's designer," her clients include a variety of creative professionals including architects, architectural historians, real estate developers, and recording industry leaders. She prides herself on the relationships she builds with her clients and as a result, Svetlana has designed dozens of successful corporate identity campaigns, exhibitions, logos, and product packages. Svetlana finds inspiration in her adopted city of Los Angeles. "The contrasts that this city provides continue to amaze me," she says. "LA is part megalopolis and part wilderness paradise. Southern California's unique architectural heritage reflects the dreams of 20th century society and continues to provide an inspirational landscape for contemporary creative expression." Selected clients have included the American Institute of Architects/LA, Kennedy Wilson, SCO advisors, Pacifica Capital Group, Killer Traks, Megatrax, Amusicom, Michael D'Angelo, and the Society of Architectural Historians/Southern California Chapter. Svetlana earned her BA in sociology as well as a BA in graphic design. She is a talented painter, photographer, and ceramicist. View her full portfolio at http://cecadesign.com.
Angie Agostino, E-News Art Director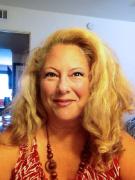 Angie Agostino has worked as a graphic designer and in pre-press production for more than 20 years. She develops brand identities, logos, collateral materials, signage, large format and exhibits and front-end Web designs for corporations, foundations, nonprofit organizations and governments. Her clients have included T-Mobile, Microsoft, Boeing, Pokemon, Lockheed Martin, Starbucks, The Seattle Seahawks, Tommy Bahama, Wongdoody and Pyramid Ale. Angie also produces original music and video editing for multimedia projects. Angie received her degree in Pre-press Production and Graphic Design from Western Washington University.
Learn more about her work at http://www.agostinocreative.com.