Authors on Architecture: Murphy & Hess on Googie
SAH/SCC Zoom Presentation
Sunday, May 01, 2022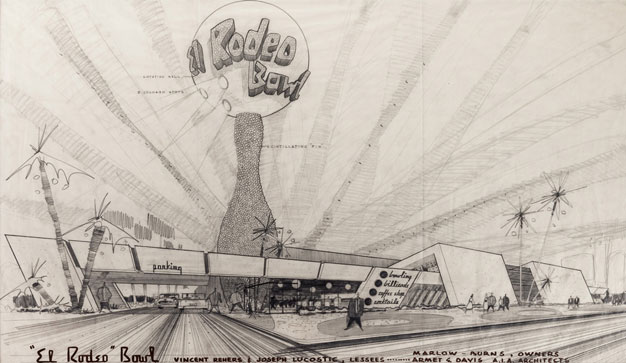 Come explore the architectural drawings of Googie masters Armet Davis Newlove and celebrate the publication of the new book Googie Modern (Angel City Press, 2022) by Michael Murphy and Alan Hess, both of whom will join us for this program.

Googie Modern, conceived, curated, and designed by Michael Murphy, is a feast of mid-century modern design. Each remarkable rendering demonstrates the passion and precision that went into every Armet Davis Newlove creation. Googie Modern is itself a monument to the excitement and optimism that once lined the streets of mid-century America.

Celebrated expert on Googie architecture, historian and writer Hess explains the first Googies, a Sunset Boulevard coffee shop designed by John Lautner, FAIA (1911-1994) , and relates how Armet & Davis took over the reins, remodeling Lautner's design in 1955, and turning it into a model for every major coffee shop/diner that emerged in succeeding decades. In its earliest days, the shocking architecture was ridiculed by critics as "kitsch" and "unrealistic," and worse—"too commercial." The attacks by critics (read: architecture snobs) fell on the deaf ears of restaurateurs and the public, who were literally eating up the accessibility, the fun, and the futurism.

Murphy is a former agency creative turned independent designer and real-estate entrepreneur. He met Victor Newlove and viewed his first Googie renderings when he was still in junior high school, and those images were locked in his brain. They would eventually define his passion. Prior to creating this book, Murphy designed "Vedem Underground," an exhibition about a protest magazine crated by Nazi camp prisoners, that Smithsonian magazine hailed as one of the 10 "Don't Miss" exhibits of 2017-2018. Murphy curated and designed two exhibitions with companion books about Santa Monica, and the book Los Angeles: A Look Back to Postcards of the 1930s & 1940s from Today (Immaginare Press, 2019)with his colleague, photographer Jens Lucking, who also contributes to this book.

Hess has written extensively on modernism in the West, most notably Googie: Fifties Coffee Shop Architecture (Chronicle Books, 1986) and the update, Googie Redux: Ultramodern Roadside Architecture (Chronicle Books, 2004).

Authors on Architecture: Hess & Murphy on Googie—Sunday, May 1, 2022; 1-2:30 PM PST; $5; go to www.sahscc.org and pay via PayPal or mail in order form with check; Zoom connection information sent upon registration.


CLICK BELOW TO ENLARGE THESE IMAGES