Authors on Architecture: Long on Peters
SAH/SCC Zoom Presentation
Sunday, January 23, 2022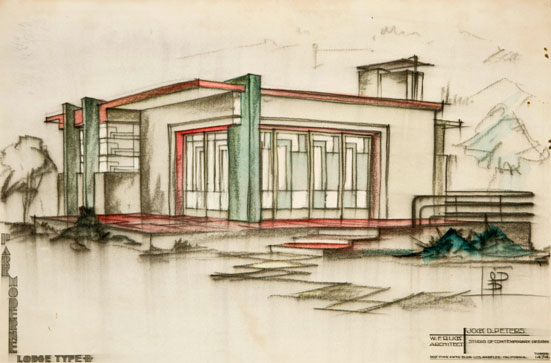 Click here to purchase video of the event ($5)

Be sure to join us for another dynamic lecture by scholar and historian Christopher Long from University of Texas at Austin, as he turns his attention to the little-known architect and designer Jock Peters (1889-1934). Long's new book,Jock Peters, Architecture and Design: The Varieties of Modernism(Bauer and Dean, 2021), is the first monograph on the acclaimed architect and designer. Peters, a German-born modernist, immigrated to Los Angeles in 1922 where he gained national recognition for his elegant and lavish interiors of the iconic Bullock's Wilshire department store (John and Donald B. Parkinson, 1928).

Peters also designed a dynamic sales office building for the short-lived Maddux Air Lines, as well as stores and houses for the developer William Lingenbrink (1870-1949), a major supporter of the burgeoning modernism in Southern California. Aside from his architectural work, Peters designed film sets for Famous Players-Lasky (later Paramount Pictures), working in the famed art department of Hans Dreier (1885-1966). Despite his early death, Peters managed to leave his mark on the modernist landscape in Southern California at a time when the new style was just emerging.

This visually rich study includes never-before-published material from the architect's personal archive, still in family hands.

Long—author of ground-breaking studies on Kem Webe, Adolf Loos (1870-1933), and Paul Frankl—writes another important history to broaden our understanding of modern architecture and design. This book offers 262 historic photographs, etchings, watercolors, and drawings (including floor plans)—many in color—that provide design inspiration for houses, retail spaces, storefronts, furniture, packaging, textiles, and set designs.



CLICK BELOW TO ENLARGE THESE IMAGES