Master of the Midcentury: Bill Cody
SAH/SCC Zoom Presentation
Saturday, September 11, 2021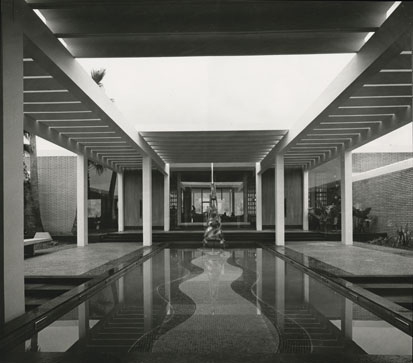 Click here to purchase a video of the event ($5)

Join SAH/SCC as we explore one of the architects who made Palm Springs a crucible of midcentury modernism. One of the most prolific, diverse, and iconic was William F. Cody, FAIA (1916-1978). Presenting this legacy is the architect's daughter Catherine Cody, design historian Jo Lauria, and architectural historian Don Choi. They are the curators of the acclaimed exhibition "Fast Forward: The Architecture of William F. Cody" at the Architecture and Design Museum in Los Angeles, and authors of Master of the Midcentury: The Architecture of William F. Cody (The Monacelli Press, 2021), the first monograph devoted to Cody. Replete with photographs of extant and now-lost structures, as well as masterful color renderings and drawings for architectural commissions and plans for vanguard building systems, the book will be available this fall.

Directing a practice ranging from residences to commercial centers and industrial complexes to master plans, Cody designed projects so recognizable that they provide visual shorthand for what is widely hailed as "Desert Modern." While his architecture was disciplined and technically innovative, Cody did not practice an austere modernism; he imbued in his projects a love for social spaces, rich with pattern, texture, color, and art.

Though the majority of Cody's built work was concentrated in California and Arizona, he had commissions in other western states, Hawaii, Mexico, Honduras, and Cuba. From the iconic Del Marcos Hotel (1947), to the inventive Eldorado Country Club (1958), to celebrity homes (Frank Sinatra, Bing Crosby, Walt Disney), Cody's projects defined the emerging West Coast lifestyle that combined luxury, leisure, and experimental design. Cody also pushed the boundaries of engineering, with beams and roof slabs so thin that his buildings seemed to defy gravity.
CLICK BELOW TO ENLARGE THESE IMAGES