Judson Studios at Forest Lawn Museum
Behind the Scenes Exhibit Walk
Saturday, August 28, 2021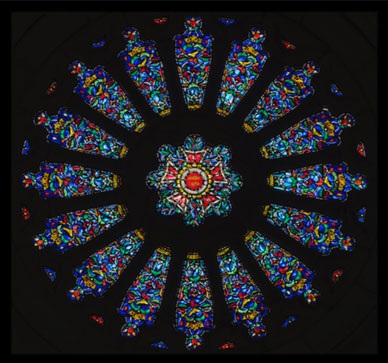 Join SAH/SCC at the Forest Lawn Museum for a behind-the-scenes tour of the first comprehensive Judson Studios exhibition, which shines a new light on contemporary and historic stained glass. Founded in 1897, the Los Angeles-based studio has been a leader in the field of stained glass for more than 120 years. The exhibition includes nearly 100 original stained glass artworks, preparatory drawings, archival photographs, oil paintings, and watercolors, many of which have never before been exhibited.

Highlights of the exhibit include a hand-crafted window from Frank Lloyd Wright's 1924 Ennis House, a fused glass portrait of Kobe Bryant by Tim Carey and Judson Studios, and The Muralist by David Flores, an enormous street-art-style window made of stained and fused glass.

Many of the pieces have never been exhibited, while some new artworks are on public display for the first time. The exhibit also highlights Forest Lawn's stained glass collection, which is one of the largest in the United States and includes works from preeminent European and American artists that span several centuries.

The Forest Lawn Museum first opened in 1952 and is now comprised of three galleries and a gift shop. Forest Lawn's founder, Dr. Hubert Eaton, wrote in his Builder's Creed that Forest Lawn should be "a place where artists study and sketch," and that commitment to art and architecture remains to this day.

Because this event is partially indoors, participation will be limited, participants will need to be fully vaccinated, and masking protocols will be in place. After viewing the exhibit with curators, we will visit other installed Judson works on the Forest Lawn property.
CLICK BELOW TO ENLARGE THESE IMAGES