Buckner on Wyn Roberts
Zoom Presentation
Saturday, May 22, 2021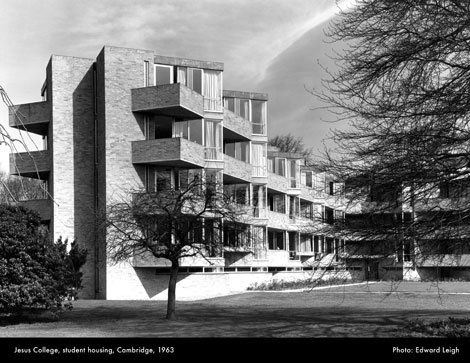 Click here to purchase a video of the event ($5).

Join SAH/SCC member Cory Buckner for a rare and very personal look at the work of Cambridge modernist, David Wyn Roberts (1911-1982). Buckner is the author of the new book, A Cambridge Modernist: the Architecture of David Wyn Roberts (Crestwood Hills Press, 2020).

In England, Roberts was a professor of architecture in the Cambridge School of Architecture who designed more college residences in the Cambridge area than any other architect during the city's history.

The work of David Wyn Roberts demonstrates his experimental approach to modern architecture and his interest in user experience, sensitivity to the layers of historical context, and thoughtful use of materials. Individuals who are interested preservation and how to create compatible, yet distinctive, contemporary buildings in keeping with the Secretary of the Interior's standards will find Roberts' approach informative to their current practice.

An architect as well as an author, Buckner is well known for her books Crestwood Hills: The Chronicle of a Modern Utopia, A. Quincy Jones (Phaidon, 2002), and The Lyman House and the Work of Frederic P. Lyman. She has also written for LA Architect, The Los Angeles, Dwell, Metropolitan Home, and many other publications.
CLICK BELOW TO ENLARGE THESE IMAGES