Epiphany Ahora! With Escher GuneWardena
Zoom Tour and Presentation
Saturday, March 13, 2021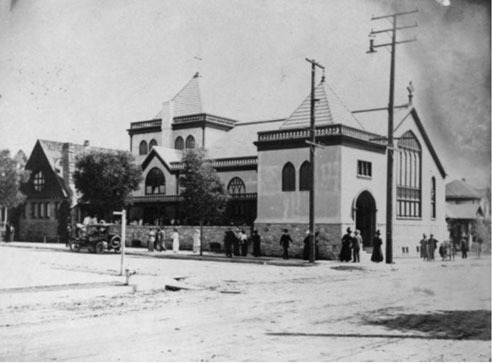 Click here to purchase a video of this event ($5)

Join SAH/SCC President Sian Winship for a discussion with members Frank Escher and Ravi GuneWardena of Escher GuneWardena Architecture about the restoration of the Church of the Epiphany, known both for being the oldest Episcopal Church in the City of Los Angeles (1887, Ernest Coxhead and 1905/1913 Arthur Benton) and the home of the Chicano Movement during the 1960s.

Following a video tour of the campus and a historical overview, the group will discuss the preservation process, including the current phase of project, restoring the basement to function again as a community organizing center, funded in part by a grant program of the National Fund for Sacred Places in collaboration with the National Trust for Historic Preservation. Rev. Tom Carey, Vicar of Epiphany, will join the panel to round off the discussion.

Winship wrote the nomination for the church's listing on the National Register of Historic Places. Escher GuneWardena has been in charge of the preservation of the historic church and parish hall for the past decade and involved in fundraising efforts through the process, enlisting help from their friends in the preservation and arts communities.

Escher GuneWardena, known for their work in preservation of icons such as John Lautner's Chemosphere and the Eames House, also balance their practice with art-related projects and and contemporary architecture of their own design as published in Clocks and Clouds: the Architecture of Escher GuneWardena (Lilian Pfaff, editor. Birkhäuser, 2019). Frank Escher is author/editor of various publications on John Lautner including the comprehensive monograph John Lautner, Architect (Artemis/Birkhäuser, 1994 and Princeton Architectural Press, 1998). Ravi GuneWardena recently co-curated "The Art of Protest: Epiphany and the Culture of Empowerment" (2018) at the historic church.
CLICK BELOW TO ENLARGE THESE IMAGES