Authors on Architecture: Campbell on Père-Lachaise Cemetery
SAH/SCC Lecture & Book Signing, Glendale
Saturday, November 02, 2019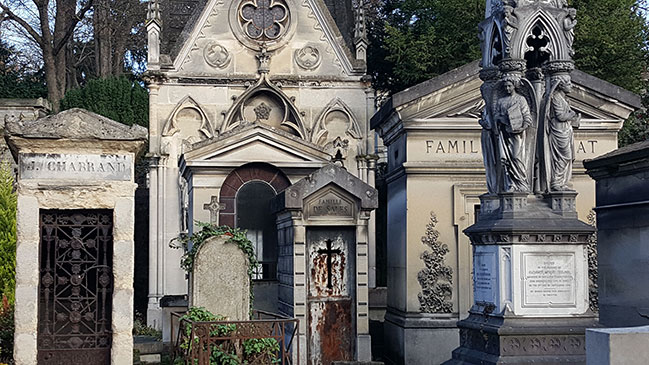 Join SAH/SCC and author Carolyn Campbell as we explore the legendary Paris cemetery through the book City of Immortals: Père-Lachaise Cemetery, Paris (Goff Books, 2019). Campbell will guide us through her new book, pointing out the memorable "inhabitants" of Paris' fourth-most-popular visitor attraction. The event takes place at the Brand Library & Arts Center (Nathaniel Dryden, 1904; Gruen Associates, Offenhauser/Mekeel Architects, 2014).

Featuring previously unpublished material, the book contains more than 100 original color photographs, historical lithographs dating from the early 19th century, and a comprehensive illustrated map of the legendary necropolis. Père-Lachaise is a 107-acre labyrinth housing an eternal "salon" of cultural icons, rebels, intellectuals, innovators, and rule-breakers. This open-air museum of sculpture and architecture boasts the final resting places of more celebrated artists and thinkers than any other location in the world.

In the book, accompanying map, and a GPS tour app, Campbell focuses on the grave sites of 84 architects, artists, writers, musicians, dancers, filmmakers, and actors, including: Oscar Wilde, Jim Morrison, Frédéric Chopin, Edith Piaf, Isadora Duncan, Amedeo Modigliani, Colette, and Marcel Proust, among others.

Documenting this revolutionary design in memorial parks are original photographs by Campbell and U.K.-based landscape photographer Joe Cornish. Come celebrate the novelty and eccentricity of this landmark site through its engrossing history, cultural iconography, and genre-defining architecture and design.
CLICK BELOW TO ENLARGE THESE IMAGES