No Longer Forgotten: Jacques & Jacqueline Groag, Transplants of Viennese Modernism
SAH/SCC Lecture & Book Signing, Santa Monica
Saturday, September 28, 2019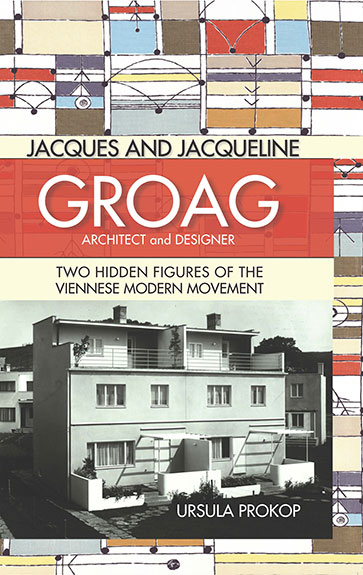 Join SAH/SCC, publisher Carrie Paterson, and Dr. Laura McGuire, translator and Assistant Professor of Architecture at the University of Hawaii, for a slide lecture and conversation about two pillars of Modernism who were nearly lost to history. Jacques and Jacqueline Groag were notable in their fields before the Nazi Anschluss (annexation) of Austria. The Groags transplanted themselves first to their native Czechoslovakia, but then fled to Britain when the Nazis invaded Prague in 1939. Bringing their unique aesthetics to Britain, they were critical participants in the Modern revolution in that country post-war.

With many of their works buried in time, no longer extant, or split among five different countries, it took Viennese design scholar Ursula Prokop 10 years to trace the important roles they played in the Second "Wiener Moderne." Her bookJacques and Jacqueline Groag, Architect and Designer: Two Hidden Figures of the Viennese Modern Movementdelves into their working relationships with design icons, such as Adolf Loos, Josef Hoffmann, Paul Engelmann, Ludwig Wittgenstein, and Sir Gordon Russell of Britain, as well as with textile and furniture companies. McGuire translated Prokop's book into English, and Paterson helped complete the picture through image and design research in Austria, Czechoslovakia, and Britain, in addition to living relatives in the United States and Israel, residents of Jacques Groag houses in Vienna, and Jacqueline Groag textile collectors in Denver.

McGuire specializes in early- and mid-century architecture and design history and was a Fulbright Scholar in 2009 and a 2011-13 Richard Plaschka grantee in Austria. She has spent the past decade working on essays, exhibitions, and editorial projects that reflect on Vienna's important cultural contributions through immigrant and exiled cultural figures. Paterson is a Los Angeles-based author, editor, and publisher at DoppelHouse Press.

The event takes place at Santa Monica Central Library (Moore Ruble Yudell, 2006), and books will be available for purchase.
CLICK BELOW TO ENLARGE THESE IMAGES