Architect as Patron: Ogosta in Culver City
SAH/SCC Tour & Talk, Culver City
Sunday, August 19, 2018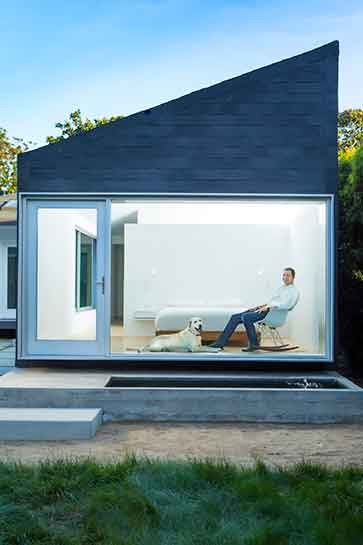 The award-winning home of Ed Ogosta, AIA, will be featured in the next installment of "Architect as Patron," SAH/SCC's series of small-group events delving into the personal spaces architects design for themselves. Ogosta, principal of Edward Ogosta Architecture, will tour us through his discreet yet decidedly modern addition and remodel of a 1944 bungalow. This 1,450-square-foot, single-story residence—dubbed Rear Window House—is a perfect demonstration of how a thoughtful, strategic intervention can breathe new life into an older home, serve the needs of a contemporary family, and maintain a respectful neighborhood scale.

"This beautiful and precise addition redefines the historic bungalow," said the AIA Small Project Awards jury, which recently bestowed the project with national honors. This recognition adds to a growing list of accolades that includes a Residential Architecture Award from AIA/Los Angeles and an American Architecture Prize.

Through a careful sequencing of new spaces and strategically located apertures, Rear Window House opens itself up to become deeply integrated with the rear garden. All exterior and interior finishes are unified to create a seamless architectural experience using a restricted material palette of glass, aluminum, wood, asphalt shingles, and concrete. Existing interiors were updated to be simple and bright, with the addition of new skylights, bleached oak floors, and white walls. The master bedroom's expansive rear window—an extruded aluminum-wrapped enclosure that cantilevers above a small pond—offers the intensely private experience of being surrounded by nature.

Influenced by the California Minimalism practiced by the Light and Space artists of the 1960s, Ogosta sought to create moments of clarity that conjure a serene, meditative experience. Strategically placed apertures and skylights bathe the home in intersecting light of varying temperatures, creating a subtle drama and interplay between warm and cool gradients, recalling the experience of a James Turrell Skyspace.

Join us to experience it yourself.
CLICK BELOW TO ENLARGE THESE IMAGES