SAH/SCC Members' Celebration
Church of the Epiphany, Lincoln Heights
Sunday, April 08, 2018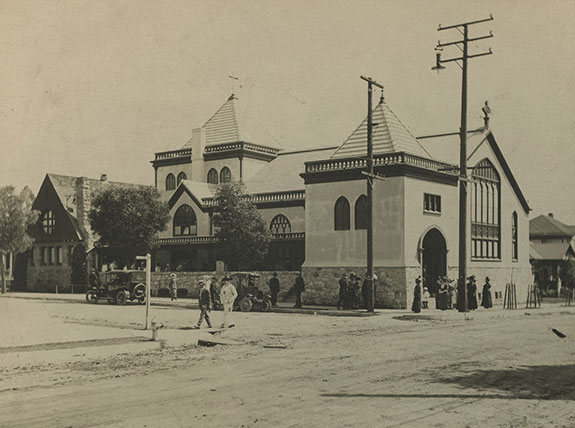 The SAH/SCC invites you, our members, to celebrate Los Angeles architecture, art and history at the Church of the Epiphany (Ernest Coxhead, 1887/Arthur B. Benton, 1913). The church is the oldest sustaining Episcopal congregation in Los Angeles. Attendees will hear from Ravi Gunewardena, the restoration architect from the firm Escher GuneWardena Architecture.

The original church, designed in the Romanesque Revival-style was expanded in 1913 to meet the needs of a growing congregation and the new church was designed in a mix of styles including the Gothic Revival, Mission Revival and Romanesque Revival. The stunning interior of the church is one of Los Angeles' hidden gems and features elaborate woodwork and stained-glass windows.

The church is also historically significant as the center of Latino culture and social justice work beginning in the 1960's and hosting: the Los Angeles base for Cesar Chavez' United Farm Workers Movement; La Raza, the Chicano civil rights movement; the local headquarters for presidential candidate Robert F. Kennedy's campaign. Now under the stewardship of the Society of St. Francis, the church continues its century-long tradition of non-denominational community service by hosting programs including Alcoholics Anonymous, Narcotics Anonymous, the Wall – Las Memorias Project serving Latino populations affected by HIV/AIDS, Equality California, a food bank, health and fitness programs, day care, and immigrant rights forums.
CLICK BELOW TO ENLARGE THESE IMAGES