Lawrence Halprin: Alternative Scores
SAH/SCC Gallery Talk & Tour, Los Angeles
Sunday, October 01, 2017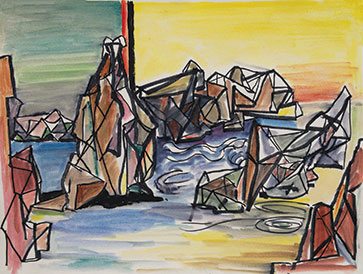 Spend a fall afternoon with SAH/SCC as we explore the work of legendary landscape architect Lawrence Halprin, FASLA. SAH/SCC Life Member and gallery owner Edward Cella will take us on a behind-the-scenes look at his new exhibition, "Lawrence Halprin: Alternative Scores—Drawing From Life" at Edward Cella Art + Architecture. Cella is opening up the gallery special for SAH/SCC on a Sunday.

Brooklyn-born Halprin (1916-2009) was educated at Cornell University and the University of Wisconsin before studying at Harvard University's Graduate School of Design with László Moholy-Nagy, Walter Gropius, FAIA, and Marcel Breuer, FAIA. By the mid-1960s, Lawrence Halprin & Associates gained recognition for urban landscape redevelopment projects, as well as for his work at the northern California community of Sea Ranch (Moore Lyndon Turnbull Whitaker, 1964).

The exhibition features the breadth of Halprin's drawing during several decades. "Halprin's daily practice of drawing was a means to not only record his diverse visual experiences, but was a tool for engaging with the trials and tribulations of war, the ecstasies of life, and the rawness and beauty in nature," shares Cella. Lost for decades, these drawings were found only after Halprin's death.

This event will feature a gallery talk by Cella and light refreshments. "Lawrence Halprin: Alternative Scores—Drawing From Life" runs concurrently with the A+D Museum's "The Landscape Architecture of Lawrence Halprin," the travelling exhibition organized by The Cultural Landscape Foundation.
CLICK BELOW TO ENLARGE THESE IMAGES