Eichler Homes
SAH/SCC Talk & Tour, Thousand Oaks
Saturday, May 13, 2017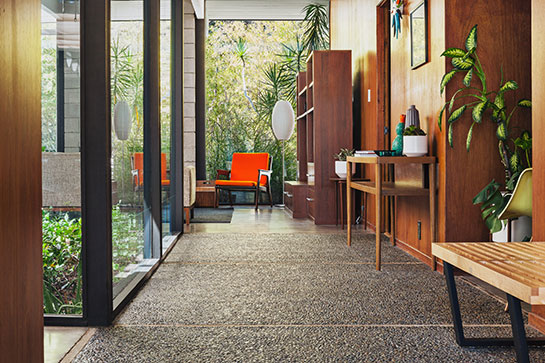 SAH/SCC members and guests will be fascinated by our Eichler Homes program and home tour in Thousand Oaks. The afternoon begins with a free lecture followed by a ticket-only self-driving tour of representative Eichler homes designed by Claude Oakland, AIA, and the firm of Jones & Emmons. The Conejo Valley tract (1964-66) was the last of visionary developer Joseph Eichler's startlingly modernist developments. Even 50 years later, the livability of their innovative concepts and clean aesthetics is evident. This is the first time these homes have been on a major tour.

Of the many books and articles on Eichler and the modernist developments he built in the Bay Area, Orange County, Granada Hills, and Conejo Valley (Thousand Oaks), the most comprehensive is Paul Adamson's Eichler: Modernism Rebuilds the American Dream (Gibbs-Smith, 2002). An architect with TCA Architects, Adamson will talk about the design concepts and their adaptation to mass production tempered by the goal of a better way of living for the middle-class family. The program will take place in the community room of the Grant R. Brimhall Library (A.C. Martin, 1982; Killefer Flammang Architects, 2006). The library's clerestory lighting, atrium garden, and soaring open space parallel features of Eichler homes.

The Thousand Oaks Eichlers were the last of the single-family residence projects. Originally priced from $31,450 to $33,450, they sell for close to $1 million today. The four main plans and their variants featured "Multi-Purpose," "Hobby," and "Retreat" rooms. The sales brochure claimed that each model featured a kitchen that was "a marvel of efficiency"; a built-in, expandable table; an atrium "open to the sky…a delightful outdoor room, within your home, for private dining, sunbathing, or lounging"; and "other differences you don't notice 'til you live in an Eichler…like chrome closet rods that never sag…or silent light switches." The houses came with installed landscaping, mahogany paneling, glass walls facing patios, backyards fenced for privacy, open floor plans, and radiant heating. And, above all, they imbued the clean, crisp, modernist aesthetic.

Now 50 years old, the 120 houses in this development remain remarkably like new. The streetscape is refreshingly varied in models and orientation, with old trees marking some residences, and new landscapes harmonizing with others. Owners have found the homes so well planned that their 21st-century lifestyles are accommodated as beautifully as 1960s family's once was.
CLICK BELOW TO ENLARGE THESE IMAGES