Authors on Architecture: Lyle on Sunnylands
Lecture & Book Signing, Santa Monica
Sunday, April 23, 2017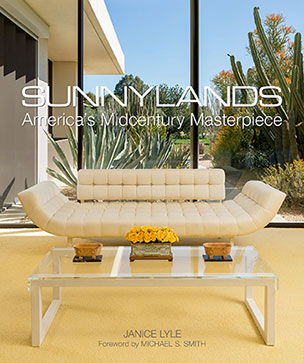 Please join SAH/SCC and the Santa Monica Public Library as we welcome Janice Lyle, author and director of the Sunnylands Center & Gardens, to discuss her new book, Sunnylands: America's Midcentury Masterpiece (Vendome Press, 2016) at the Santa Monica Main Library

Lyle will share the architecture, interior design, history, and restoration of the 1966 Walter and Leonore Annenberg estate designed by Case Study House Program architect A. Quincy Jones (1913-1979). The interiors were designed by William Haines, known for decorating the Reagan White House and for popularizing the Hollywood Regency style.

The presentation will also address the transformation of the Rancho Mirage property in 2012 from private home to public house museum and global convening site for world leaders and experts. In addition to the historic home, the site now includes the Sunnylands Center & Gardens (Frederick Fisher and Partners, 2012) with 9.5 acres of desert gardens designed by the Office of James Burnett. Interior designer of the Obama White House, Michael S. Smith, designed the Sunnylands Center interiors.

Lyle will tell the rich story of Sunnylands as a sanctuary for 20th-century presidents and celebrities through compelling photographs, drawings, and historical documents. Don't miss this captivating presentation about one of Southern California's most iconic houses.
CLICK BELOW TO ENLARGE THESE IMAGES