Frank Bros.: The Store That Modernized Modern
SAH/SCC Tour & Book Signing, CSLB
Sunday, February 26, 2017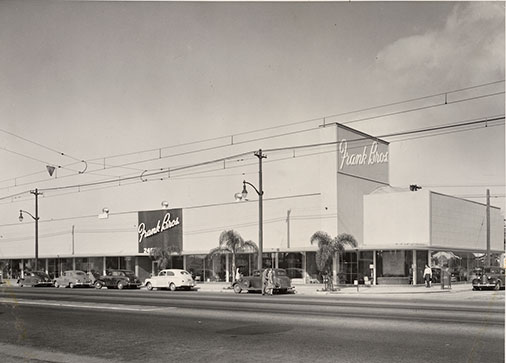 In postwar Southern California, Frank Bros. Furniture emerged as a local and national leader in the retailing of modern design. Join curators Cara Mullio and Jennifer M. Volland for a special, behind-the-scenes tour of a new exhibition focused on Frank Bros. Furniture. "Frank Bros.: The Store That Modernized Modern" is on view at the University Art Museum at Cal State Long Beach, which is opening its doors early especially for SAH/SCC.

Frank Bros. Furniture was one of the first retailers in the nation to wholly embrace a modern aesthetic. As influential architects in the Los Angeles area were experimenting with new materials and techniques, Frank Bros. Furniture store in Long Beach was providing the furnishing, accessories, and interior design for these houses across Southern California. Many of these homes were featured in Arts & Architecture magazine from the 1940s through the 1960s as part of the Case Study House program. While they were marketing, designing, and retailing new kinds of furniture and accessories, Frank Bros. was on the forefront of selling the modern lifestyle.

The exhibition is accompanied by a catalog, Frank Bros.: The Store That Modernized Modern (Black Dog Publishing, 2017). After the gallery tour, Mullio and Volland will be on hand to sign purchased copies. Space for this event is limited.
CLICK BELOW TO ENLARGE THESE IMAGES