Members' Celebration
West Covina
Sunday, January 22, 2017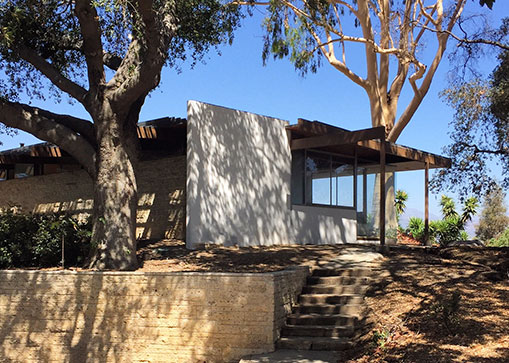 We're thanking our members with a very special members' celebration event at the newly restored J.M. Roberts Residence (1955, Richard Neutra). Sited on a secluded hilltop among eucalyptus and avocado trees, this elegant pavilion is pure Neutra.

In addition to sharing good conversation and refreshments with other SAH/SCC members in this spectacular setting, attendees will be treated to a short program on the restoration effort featuring Neutra scholar and author Barbara Lamprecht, PhD., Eric Lamers, restoration craftsman and the current owners.

As Lamprecht describes in her definitive monograph Neutra: The Complete Works, "[The Roberts Residence] is a testament to Neutra and his well-tempered designers and office staff that this project got built." Apparently, the Roberts family engaged the architect without fully investigating his work and directed him to design a ranch house. Although surprised by the initial designs, Neutra managed to convince the family that a modified design could suit their needs.

This event is FREE to SAH/SCC members as a thank you for your support. Members are also welcome to bring guests at cost of $10, which can be applied toward discounted SAH/SCC membership on event day.
CLICK BELOW TO ENLARGE THESE IMAGES