Authors on Architecture: Serraino on Creativity
SAH/SCC Lecture & Book Signing
Saturday, October 29, 2016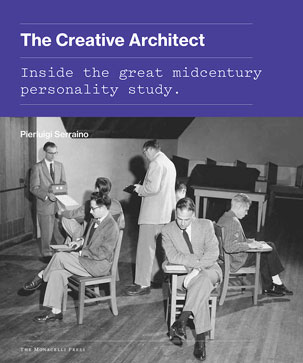 A fascinating, but little-known, study of architects in the late 1950s is intricately uncovered by author and architect Pierluigi Serraino, AIA, in his book The Creative Architect: Inside the Great Midcentury Personality Study (The Monacelli Press, 2016). SAH/SCC's "Authors on Architecture" welcomes San Francisco-based Serraino to discuss his newest book.

Among the 40 architects contributing to the study, held at Berkeley's institute of Personality Assessment and Research, were Eero Saarinen, FAIA, Louis I. Kahn, FAIA, Philip Johnson, FAIA, George Nelson, Richard Neutra, FAIA, Eliot Noyes, Pietro Belluschi, FAIA, Serge Chermayeff, and A. Quincy Jones, FAIA. This august group participated in both solitary and group testing of their creativity abilities. Deploying an array of tests reflecting then-current psychological theories, the study sought to answer questions that still apply to creative practice today: What makes a person creative? What personality traits are necessary to actualize that creativity?

Although originally intended for publication, the findings are only now being made available. Serraino culled through primary documents from numerous sources to show how some of American's greatest architects evaluated their own creativity—as well as that of their peers—and how they perceived their place in architectural history.

Serraino is an expert chronicler of modern architecture, having contributed to many magazines and journals, as well as authoring several books, including Modernism Rediscovered (Taschen, 2000), Eero Saarinen (Taschen, 2005), and NorCalMod: Icons of Northern California Modernism (Chronicle Books, 2006). Herman Miller's LA showroom (Lynch/Eisinger/Design, 2009) will generously host us as we enjoy this intriguing look into the creative minds of modernism.
CLICK BELOW TO ENLARGE THESE IMAGES