Citadel of Learning, Cathedral of Commerce
Southwestern School of Law (Bullock's Wilshire)
Sunday, August 21, 2016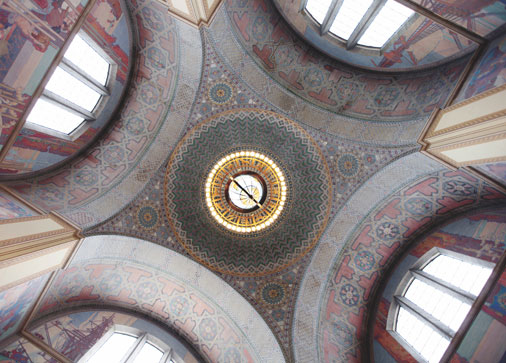 SAH/SCC is thrilled to present an exclusive afternoon Salon with Arnold Schwartzman and Stephen Gee, the team behind the new book "Los Angeles Central Library: A History of its Art and Architecture" (Angel City Press, 2016). The event will take place in another Los Angeles icon: the spectacular former Bullock's Wilshire (Parkinson & Parkinson, 1929)

Gee and Schwartzman will share anecdotes and images from the Central Library's (Bertram Goodhue, 1926) long history, starting with its early temporary locations around Downtown Los Angeles, through the design and architecture of the Goodhue building and the 1993 restoration and addition by Hardy Holzman Pfeiffer Associates. The book, which will be available for purchase, takes special note of the artists and artisans who worked on both the 1926 library and its 1993 rebirth. Read a review of the book here.

Stephen Gee is a writer and television producer based in Los Angeles, and author of "Iconic Vision: John Parkinson, Architect of Los Angeles" (Angel City Press, 2013). Arnold Schwartzman, an Academy Award-winning documentary filmmaker, photographer, author, and graphic designer, served as Director of Design for the 1984 Los Angeles Olympic Games. Among his many books are several works on Art Deco in Los Angeles and London, most recently "Griffith Observatory: A Celebration of its Architectural Splendor."

Gee and Schwartzman will deliver their presentation surrounded by the glamour of 1920's Los Angeles. The former Bullock's Wilshire (now Southwestern Law School) is a stunning Art Deco masterpiece that represents the culmination of Los Angeles as a machine city in the automobile age. Designed by renowned architects John and Donald Parkinson, Bullocks operated as a luxury department store for more than 60 years. The building is a historic-cultural monument of the City of Los Angeles, and is listed in the National Register of Historic Places. In 1994, Southwestern purchased the landmark building and adaptively reused as an educational facility. Our salon will be held at in the restored Salle Moderne, originally designed as a "club room for ladies."

While we won't have unfettered access to all parts of this iconic treasure, attendees will be able to peek into some of its storied spaces, including the Central Hall, Period Rooms, Cactus Lounge, and Tea Room. And we'll have Arnold Schwartzman's expertise to enlighten and enliven our visit.
CLICK BELOW TO ENLARGE THESE IMAGES