Authors on Architecture: Bosley on Greene & Greene and Their Clients
SAH/SCC Lecture & Book Signing
Sunday, July 24, 2016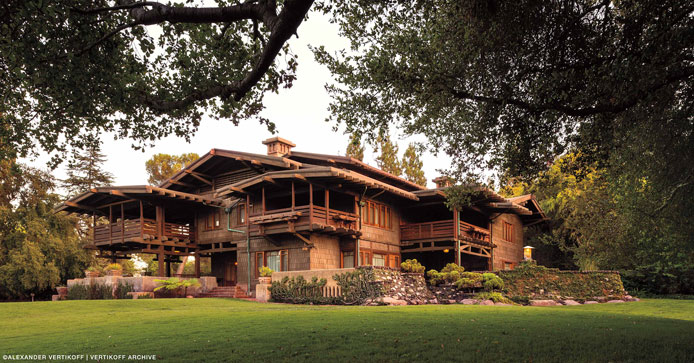 Please join SAH/SCC and the Santa Monica Public Library (Moore Ruble Yudell, 2006) for a very special program celebrating the first book published about Pasadena's Gamble House (1908), designed by Charles and Henry Greene, in more than 20 years. Author, SAH/SCC Life and Advisory Board Member, and Director of the Gamble House, Edward R. Bosley, will speak on The Gamble House: Building Paradise in California (The Gamble House/USC School of Architecture and CityFiles Press, 2015).

This new book looks at the clients, David and Mary Gamble and their family, and their roles in the design of the house, its interior, and its garden, their experience living in the house, and their vision in preserving it. The book is based on research in the Gamble family papers at Radcliffe and Harvard and is lavishly illustrated by the Gamble family's snapshots.

More than a century ago, architects Greene & Greene created homes that redefined the intersection of art and nature—spaces where families could make for themselves lives of purpose and beauty in harmony with the land. When practiced as a fine art, architecture has shown its power to transform the emotional and spiritual relationship we have with our environment. Few architects have understood this as clearly as Charles and Henry Greene. Fewer, still, have created such compelling work as the Gamble House. The house was completely restored in 2004 (Kelly Sutherlin McLeod Architecture, Historic Resources Group, Griswold Conservation Associates, Krakower & Associates, Ashba Engineers).

New photography by Alexander Vertikoff illuminates a series of scholarly essays based on recently discovered archival material. The essays were written by Gamble House scholars Bosley, Anne E. Mallek, SAH/SCC Life Member Ann Scheid, and SAH/SCC Life and Advisory Board Member Robert Winter.

Lead author Bosley will give an illustrated talk on the various perspectives presented in the book, followed by a book signing and light refreshments. The books, normally selling for $60, will be available that day for $50.
CLICK BELOW TO ENLARGE THESE IMAGES