Los Angeles Coliseum Tour
Exposition Park
Saturday, July 16, 2016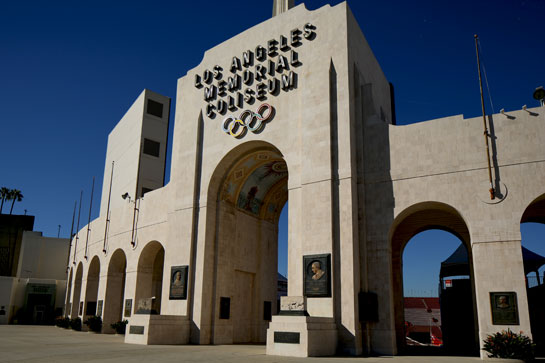 Join the SAH/SCC for a rare, behind-the-scenes visit of the Los Angeles Memorial Coliseum (1921-3, John and Donald B. Parkinson). This iconic LA symbol was home to the 1932 and 1984 Olympic games, the newly relocated Los Angeles Dodgers (1958-61), two Superbowls and over fifty years of University of Southern California (USC) and University of California, Los Angeles (UCLA) football.

This tour will take participants to the peristyle arches and Court of Honor, the press box, the home-team locker room and field entrance tunnel.

Located on the site of a former gravel pit at Agricultural Park (known for illegal activity and vice), the area was transformed by local booster William M. Bowen. As recounted in the book, Iconic Vision: John Parkinson (2013, Angel City Press), the Coliseum was "…constructed of reinforced concrete measuring about two-thirds of a mile on the outside…[offered] an un-obscured view of all parts of the field, with exits so numerous and conveniently placed that all of an audience of 100,000 people can, without hurry or confusion, reach the exterior in less than ten minutes."

Afterward, tourers are offered a FREE walking tour of the USC campus buildings designed by Parkinson and Parkinson including the Physical Education Building (1928, Parkinson and Parkinson), Bridge Hall (1928, Parkinson and Parkinson), Bovard Hall and Administration Building (1920-1,Parkinson and Parkinson), Student Union Building (1928, Parkinson and Parkinson), and Science Building (1928, Parkinson and Parkinson). SAH National President and noted author Kenneth Breisch, Ph.D. will lead this tour. Don't miss out! Have a bite of lunch then walk the campus from 1:30-3PM.

Also, ET-94, the Space Shuttle fuel tank that recently traversed the streets of Los Angeles on its way to its new home, the California Science Center is also located walking distance from the Coliseum.

Buy tickets now. Space is limited. Reservations are a must for this event and the deadline is Friday, July 1st. Tickets are $39 for members and $55 for non-members. Parking is not included. The site is easily accessible by Expo Line. Paid parking is available in the lot for the California Science Center or on the USC Campus.

We regret that the tour is not handicapped accessible and not suitable for people who cannot walk or stand for long periods of time. We regret that there can be no refunds for this event.

CLICK BELOW TO ENLARGE THESE IMAGES