Lloyd Wright Heifetz Studio Tour & Panel Discussion
The Colburn School, Downtown LA
Sunday, August 16, 2015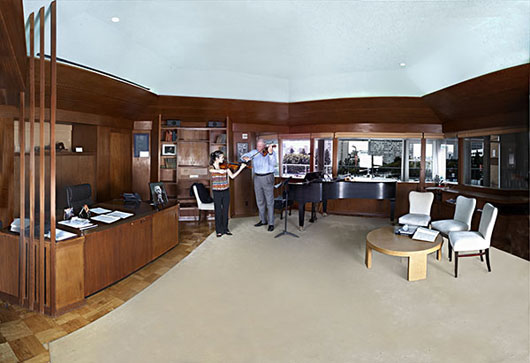 Join the SAH/SCC for an exclusive visit to one of Downtown's best-kept architectural secrets, the Jascha Heifetz Studio (1946, Lloyd Wright). Prior to touring the studio, attendees will hear from a variety of experts including architect, Eric Lloyd Wright, son of the architect and grandson of Frank Lloyd Wright. Also on hand will be Dana Hutt, contributing author to"Lloyd Wright: The Architecture of Frank Lloyd Wright, Jr."(Themes & Hudson, Ltd., 1998) and Sel Kardan, President and CEO of the Colburn School who will share more about the importance of Heifetz and the School's role in the preservation of the Studio.

The Colburn School (1998, Hardy Holzman and Pfeiffer) acquired the Jascha Heifetz Studio in 1992 from the actor James Woods, who had purchased the property. Woods offered up the studio to anyone who would pay to move it. The Colburn School stepped up to the plate. The studio was meticulously disassembled, catalogued and stored until it was reassembled on the Colburn school's campus by the same team (Harold Zellman) in 1998.

Designed by Frank Lloyd Wright, Jr. (son of the groundbreaking architect Frank Lloyd Wright) to meet Heifetz' acoustic specifications, the small, hexagonal studio once was connected to Heifetz' sprawling estate by a covered breezeway. Heifetz (1901-1987) was a violinist whose name for more than half a century was synonymous with perfection of technique and musicianship. Heifetz also played the piano. Today the studio serves as the site of master classes and inspiration for young students.

Don't miss this rare opportunity to visit this important architectural and cultural resource and to connect with its living legacy.
CLICK BELOW TO ENLARGE THESE IMAGES