Authors on Architecture: Howard on 'The Thickening of Time'
SAH/SCC Talk & Book Signing
Sunday, August 02, 2015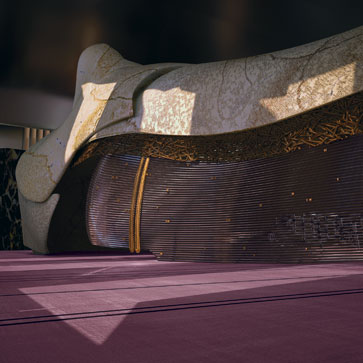 Join SAH/SCC and co-sponsor, the Santa Monica Public Library, for a lecture and book signing by local educator and author Coy Howard. A long-time architecture teacher at Southern California Institute of Architecture (SCI-Arc), Howard was also a member of the seminal "LA School" of architecture—an informal group of avant-gardists centered around the late-1970s Venice art scene that shaped the course of architectural design in Southern California. Howard's Ellen and Jay McCafferty Studio (1979-80) in San Pedro was one of the few buildings Charles Moore, FAIA, profiled in his guide to LA architecture, The City Observed: Los Angeles along with Frank Gehry, FAIA's own house in Santa Monica.

Howard's new book, The Thickening of Time (SCI-Arc Press, 2015), challenges the current status of digital architecture with his exploration of the aesthetic implications of seductive insinuations, mysterious withholdings, liminal indirections, and subtle allusions in the design of three urban rooftop villa projects in Los Angeles, Tokyo, and New York.

Howard is a designer with a broad range of interests and accomplishments. His furniture is included in the permanent collections of The Metropolitan Museum of Art in New York, the Museum of Fine Arts in Boston, and the Denver Art Museum. Examples of his graphic designs are held in several museums, including The Museum of Modern Art in New York, and the Los Angeles County Museum of Art. He has won a broad range of awards for his work, and consulted as an advisor to many major institutions, including The Getty Center, The Israel Museum in Jerusalem, and The Museum of Contemporary Art in Los Angeles. In 2012, he was the Bernoudy Architect in Residence at The American Academy in Rome.

At the close of the presentation at the Santa Monica Central Library (Moore Ruble Yudell, 2006), books will be available for sale and signing by the author.
CLICK BELOW TO ENLARGE THESE IMAGES