Bubeshko Apartments Reborn
SAH/SCC Tour & Talk
Saturday, June 13, 2015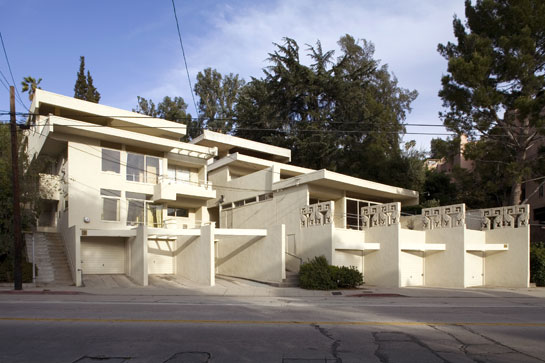 SAH/SCC Life Members and Patrons are invited to a rare visit to R.M. Schindler's Bubeshko Apartments in Silver Lake, whose award-winning restoration was done by DSH//architecture. We'll tour the owners' unit with the architects who brought the property back to life, Chava Danielson, AIA, and Eric Haas, AIA, and hear about their research, challenges, and process. The afternoon visit will end with a wine-and-cheese reception on the patio.

Schindler designed and built the two neighboring apartment buildings between 1938 and 1941 for mother-and-daughter clients. The clients' vision of a Silver Lake salon for artists, architects, and musicians was met by Schindler's concept of a "Greek hillside" of five units, each different in size, configuration, orientation, and finishes.

The project to rehabilitate these buildings from years of benign neglect was one of probing their history by engaging a deep understanding of Schindler's formative theories, his architectural intentions, and their ultimate material realization. Not wanting to freeze the project in time, yet at the same time respecting its origins, the architects and new owners focused on the project's DNA: its generative ideas, theories of spatial configuration, and employment of color and material.

The team concentrated on material systems throughout the project; stained plywood, painted wood, and colored plaster were used systematically to produce a matrix of individuated dwelling spaces. The use of color is integral to how these systems form space and shape environments. Schindler's concern with these effects stood in contrast to the reductive esthetic of the International Style.

His muted, translucent palette was restored using environmentally sound stains and pigments, with the new owners deeply involved in the process. Fixtures, appliances, and building systems were upgraded in line with contemporary standards.

The rebirth of these important buildings acts as a model for future sensitive restoration work. Careful study, open to revision, undertaken with economy, environmental sensitivity, and integrity, respects the past and responds to the present. DSH//architecture's restoration has received numerous awards, including those from AIA/LA, AIA/CC, Los Angeles Conservancy, California Preservation Foundation, and State of California.
CLICK BELOW TO ENLARGE THESE IMAGES