Authors on Architecture: Downtown Details
SAH/SCC Lecture & Book Signing
Sunday, March 29, 2015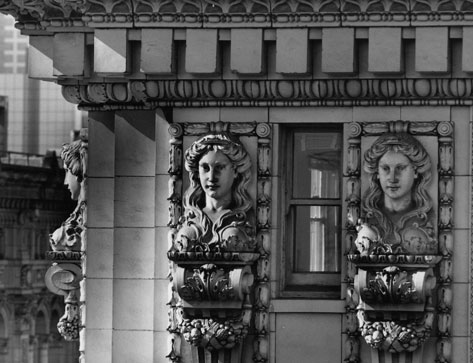 SAH/SCC's "Authors on Architecture" presents photographer and writer Tom Zimmerman, who will discuss Downtown in Detail (Angel City Press, 2009). Zimmerman will share some of his most beloved images and anecdotes about one of his favorite topics: Los Angeles architecture.

Zimmerman's keen eye for the architectural elements (both exterior and interior) that tell the hidden stories of buildings and the dreams behind them is evident in Downtown in Detail. Zimmerman goes inside and finds long-forgotten penthouses, windows that provide more than light, and stairways seemingly leading to the sky. To many of us, these same details are hidden by progress; skyscrapers lock us in elevators and smart phones keep our eyes distracted.

In the words of Los Angeles Conservancy's Linda Dishman, who penned the foreword: "This book is much more than a window into the past. The vast majority of buildings pictured are still here, right now. In Tom Zimmerman's remarkable photographs, we see the details that are there, waiting for each of us to rediscover, enjoy, and preserve for future generations."

In addition to Downtown in Detail, Zimmerman's books include A Day in the Season of the Los Angeles Dodgers (S.P.I. Books, 1994) and Wednesday at the Pier (Carol Pub Group, 1991). After the presentation at the Santa Monica Public Library (Moore Ruble Yudell, 2006), the book will be available for sale and signing by the author.
CLICK BELOW TO ENLARGE THESE IMAGES