The Huntington: The Library Exhibition Hall Illuminated
SAH/SCC Tour & Talk, San Marino
Sunday, April 06, 2014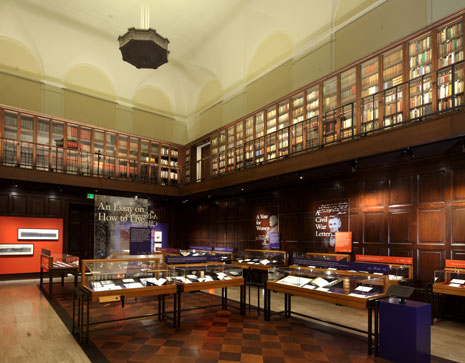 Join SAH/SCC for an exclusive, behind-the-scenes tour of the renovated Library Exhibition Hall (Myron Hunt, 1920) at The Huntington Library, Art Collections, and Botanical Gardens. The Huntington's David Zeidberg, Avery Director of the Library, and Karina White, Senior Exhibition Designer and Project Manager, will lead a small group of SAH/SCC members on a tour of the Hall before the Library opens to the public for the day.

After 17 months of renovation (guided by Architectural Resources Group) and reinstallation at a cost of $2.5 million, the recently completed work references the original design of the space from 1920, while bringing it into the 21st century. New chandeliers were fabricated to resemble the original ceiling fixtures, but were improved with LED lights. Also, cork and marble floors were refinished after removing carpeting that hid their splendor for 40 years.

Tour participants will be guided through a discussion that showcases the Hall's original design elements, its evolution through the decades, and the recent transformation. The tour also includes displays of rare books and manuscripts from Chaucer, Shakespeare, and Thoreau, as well as new audio and interactive components that engage visitors to better connect them to history and literature.

In addition to the Exhibition Hall tour, participants will enjoy an insider's perspective on the new Education and Visitors Center at The Huntington, designed by Architectural Resources Group. The $60-million project includes a 400-seat lecture hall, meeting rooms, classrooms, store and café, and other visitor amenities, all set within gardens and paths by landscape architect Cheryl Barton. Drawings, mock-ups, and views of the new construction will help envision the finished project.

Ticket price includes the behind-the-scenes tour and all-day admission. Ticket-holders are welcome to enjoy the rest of the grounds after the tour. Lunch is not provided for this event, but participants can visit the onsite café or independently make a tearoom reservation (subject to availability).
CLICK BELOW TO ENLARGE THESE IMAGES