Schindler's Last, At Last
SAH/SCC Home Tour
Sunday, March 02, 2014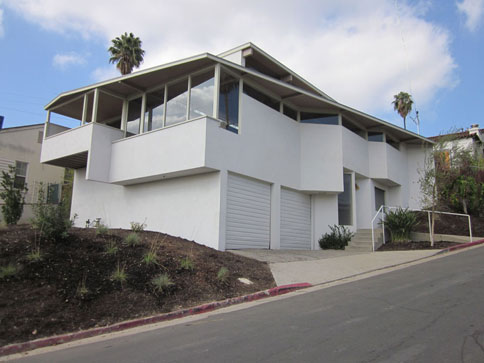 Join the SAH/SCC for a very special visit to the last house designed by R.M. Schindler, the Schlessinger Residence (1952-54) in Los Feliz. Conceived but not fully designed at the time of Schindler's death, the task of building the project was taken up at the time by architect John August Reed, a founding member of the SAH/SCC.

Ground had not yet been broken on the project when the talented Viennese architect passed away in 1953. By way of Ester McCoy\'s recommendation, a young John Reed was hired to provide additional plans and oversee construction. Over the course of construction, budgetary constraints as well as owner preferences led to several changes in the subsequent plans.

Having purchased the home from the Schlessinger estate, the current owner hired noted craftsman Eric Lamers to sensitively restore and align the house more closely with Schindler's original intent.

Join us for a rare opportunity to see the house and engage in a very special dialogue with John August Reed and Eric Lamers. We'll learn firsthand about a remarkable time in Los Angeles, the realities of loss and interpretation, as well as the opportunities and challenges of choosing restoration over demolition.



CLICK BELOW TO ENLARGE THESE IMAGES