Designer as Patron: Measer in Venice
Designer as Patron: Measer in Venice
Saturday, February 22, 2014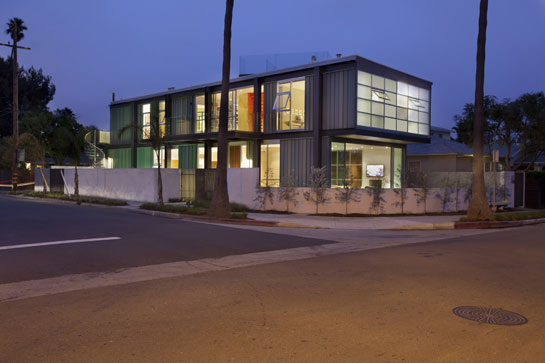 SAH/SCC presents the second in our new series, "Architect/Designer as Patron," where we visit designers and architects who have built their own homes, and discuss the issues of domestic living today. The Venice Anthem House, by designer Dorothy Measer at dk designhouse, is a great example of minimalism for a modern family.

The 3,802-square-foot home was built on the foundation of a former "Granny cottage" owned by David Measer. When a mutual friend suggested Dorothy help him with color and light issues, it was love at first sight—and site. She designed the new home for their growing family with open spaces that connect with each other, the greater outdoors, and the local community.

Throughout the interior and exterior spaces, the designer calls attention to the systems that support and define daily life, such as city grids, light cycles, and air circulation. The open indoor/outdoor floor plan radiates around a central cylindrical structure—sporting a bright-orange interior—that acts as the "guts" of the house, neatly concealing utilities. Surface tones of white and natural wood are accented with vibrant shades of blue, green, yellow, and orange in furnishings, fabrics, accessories, and art to warm the strong contemporary lines.

The building footprint was re-oriented—turned five degrees on the existing lot—to take advantage of passive solar gains and natural breezes. Connection to site and community was important to Measer, who created a lower-level outdoor space to actively engage the street, creating neighborhood interaction through such features as a built-in bench for passersby to pause. The curve of the low wall framing the garden also softens the corner lot, acting as a welcoming gesture.

An array of vertical green metal panels lines the rectangular façade. The multi-colored panels are arranged in a barcode pattern interpretation of a portion of the closing lyrics from the owners' favorite song, "Anthem" by Leonard Cohen: "Light gets in." The concept has truly become the anthem of the Measers' lives, love, and living.
CLICK BELOW TO ENLARGE THESE IMAGES