Edward A. Killingsworth: Master Plan for Learning
SAH/SCC Panel & Walking Tour
Saturday, November 16, 2013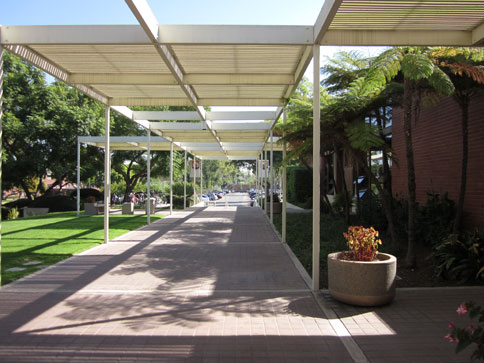 Join SAH/SCC as we explore 40 years of master planning by renowned Case Study House architect Edward A. Killingsworth at California State University, Long Beach (CSULB). Sponsored by the History Graduate Student Association (HGSA) and Crosby Doe Associates, the program will begin with an informative panel discussion, followed by a book signing and self-guided walking tour of the campus.

The panel, moderated by SAH/SCC President Sian Winship, will feature former colleagues of and experts on Killingsworth's architecture and planning activities. Michael McCabe, former Killingsworth Brady & Smith associate, and Jon Regnier, former CSULB administrator, will share experiences on the project and personal memories of working with Killingsworth. Cara Mullio and Jennifer M. Volland, authors of the books Edward A. Killingsworth: An Architect's Life (Hennessey + Ingalls, 2013) and Long Beach Architecture: The Unexpected Metropolis (Hennessey + Ingalls, 2004), will speak on their 10-year effort to ensure Killingsworth's proper place within the annals of architectural history. Copies of their latest book will be available for sale and signing by the authors. Andrew Byrom, graphic designer and faculty member at CSULB School of Art, will round out the speakers with a contemporary take on Killingsworth and the campus.

After the program, attendees will receive a specially designed walking tour brochure to guide them on their own exploration of the campus, which includes buildings by Killingsworth, Hugh Gibbs and Donald Gibbs, and Kenneth S. Wing, in addition to landscape design by Edward R. Lovell.

Killingsworth's residential and commercial projects are known for their graceful and lightweight post-and-beam construction techniques that reflect the ethos of Southern California Modernism: elegant proportions, expansive open plans, and respect for the landscape. The completion of the Kahala Hilton in Honolulu (1964) established the firm's international reputation for innovative hotel and resort design. After his master planning activities for CSULB, Killingsworth went on to design the Ecumenical Religious Center (1966) at the University of Southern California, the Student Commons (1967) at University of California, Riverside, and the McConnell Center (1968) at Pitzer College.
CLICK BELOW TO ENLARGE THESE IMAGES