Wilshire Boulevard Temple Restored
SAH/SCC Members' Celebration
Thursday, November 07, 2013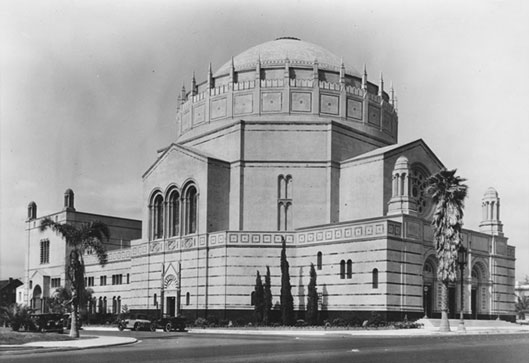 This year, SAH/SCC celebrates our members—and a great historic building—at Wilshire Boulevard Temple, the 84-year-old synagogue recently restored by Levin & Associates Architects. Principal architect Brenda Levin, FAIA, will give us a behind-the-scenes look at the restoration process while we sit in the awe-inspiring sanctuary. We will begin with an outdoor reception, then proceed into the sanctuary for the program. We will also hear from David Judson, president of Judson Studios, which worked on the stained-glass restoration, as well as Katie Spitz, AIA, ASLA, principal of the landscape architecture firm KSA. As always, this event is free for members. We encourage you to invite guests, whose nominal entrance fee can be applied toward a new membership on that day.

Levin & Associates led both the restoration of the historic Sanctuary building and developed a campus master plan. Two initial studies that surveyed and evaluated the historic materials of the 1929 building formed the foundation of a Conservation Master Plan. The Sanctuary restoration includes all original historic finishes, fixtures, and seating. Added were eight new light niches, which are concealed by gold metal grilles whose design derives from a decorative motif seen throughout the space, particularly at the choir loft and in various floor patterns.

As part of the process, Levin created mock-ups for each historic material, from exterior plaster, cast stone, and marble, to the interior Hugo Ballin murals, art glass, and plaster dome. Among the most challenging components of the project was restoring the coffered plaster dome ceiling, rose window, art glass, and cast-stone surround.

Landscape components by KSA Landscape Architecture include Wilshire and Hobart Boulevards' streetscapes, parking lot, a container garden, and a communal outdoor garden accessed from the east portal of the Sanctuary. Enclosed by new gates at Wilshire Boulevard that were inspired by the curved forms of the dome, the communal garden is a place for the congregation to gather as a community in reflection or celebration.

CLICK BELOW TO ENLARGE THESE IMAGES