The Solar House: Pioneering Sustainable Design
SAH/SCC Lecture & Book Signing
Saturday, August 24, 2013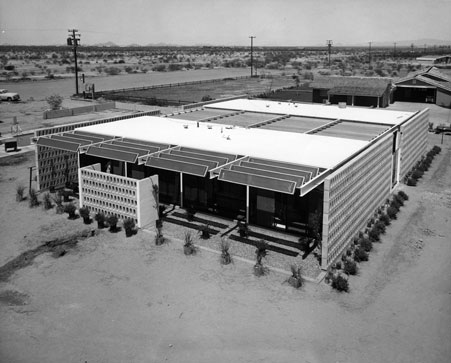 For many of us, the phrase "solar house" conjures some questionable architectural designs from the 1970s. Proving us wrong, author Anthony Denzer, Ph.D., will trace the fascinating origins of the solar house back to its roots in the modern architecture movement of the 1930s to the 1960s at SAH/SCC's lecture and book signing event in West Hollywood. Denzer's new book, The Solar House: Pioneering Sustainable Design (Rizzoli, 2013), will be available for sale and signing by the author. Don't miss this important opportunity to view the solar house in a whole new way!

Denzer will talk about George Frederick Keck, "father of the solar house," and other pioneers of sustainable design, including Eleanor Raymond and Maria Telkes, whose work SAH/SCC visited during its "Beyond the Bauhaus" travel tour to Boston in 2005. Denzer, an associate professor of architectural engineering at the University of Wyoming, is also a former SAH/SCC President, and author of Gregory Ain: The Modern Home as Social Commentary (Rizzoli, 2008).

The lecture also provides fascinating context for the upcoming Solar Decathlon, which will be held for the first time outside of Washington, DC, at the Orange County Great Park (Ken Smith Landscape Architect) in Irvine, October 3–13, 2013. Mounted by the US Department of Energy, the Decathlon will feature 20 specially constructed display homes designed by architecture students.



CLICK BELOW TO ENLARGE THESE IMAGES