Getting Going for Greta Magnusson Grossman
SAH/SCC Talk & Tour
Saturday, February 09, 2013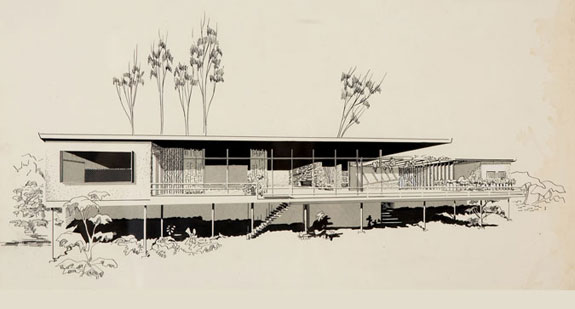 Join SAH/SCC President, Sian Winship, for an exclusive behind the scenes tour of the Greta Grossman Exhibit at the Pasadena Museum of California Art (PMCA) followed by a tour of homes by this talented designer. The all-day event includes admission to the PMCA, a docent-led tour of the exhibit before the museum opens for the day, a gourmet boxed lunch, shuttle transportation to the houses featured on the tour, an informative tour brochure and free parking for the day adjacent to the PMCA.

While best known as an industrial designer, the Swedish-born Grossman also designed and built a few residences in Los Angeles after she emigrated here in the early 1940s. Her Swedish Modern aesthetic flourished here during the rise of modern architecture in the postwar period. Extant residences by Grossman are rare and this tour provides an opportunity to visit works including the Hart Residence (1953) and the Hurley Residence (1958). The latter residence will feature a very special Modern Patrons-style program consisting of a dialogue with the original homeowner who commissioned the house from Grossman.

Grossman's furniture designs (and her architecture) were featured frequently in Arts + Architecture magazine. Like many modernists, Grossman believed modern design was "…not a superimposed style, but an answer to present conditions—developed out of our preferences for living in a modern way."

The Pasadena Museum of California Art (Johnson, Favaro, 2000-2002) is currently featuring the exhibition "Greta Magnusson Grossman: A Car and Some Shorts." Event participants will have the opportunity to visit the exhibit (which features models, plans and photos of her architectural designs as well as her furniture) with curator from the Greta Grossman Archive, Evan Snyderman.

The event will begin at the Pasadena Museum of California Art at 11AM and finish there at the end of the day at 5PM. Tickets include tour, museum admission, coach transportation to each of the houses, all-day parking in Pasadena and a gourmet boxed lunch. The price is $95 for SAH/SCC members and $125 for non-members. Space is limited to only 40 participants and will, therefore, sell out quickly. Don't miss this exclusive opportunity to learn more about this important modern designer.

CLICK BELOW TO ENLARGE THESE IMAGES