Conjunctive Points: Samitaur, Moss and Culver City
SAH Tour and talk
Saturday, August 18, 2012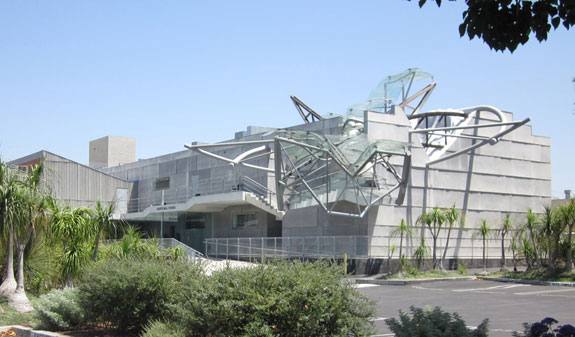 Can architecture be used as a catalyst for positive social change? Join SAH/SCC for a very special program featuring the award-winning work of Eric Owen Moss in Culver City's Hayden Tract on Saturday, August 18th.

We begin with a dialogue with developers Frederick and Laurie Samitaur-Smith, whose visionary belief in the transformative power of architecture, art and design has revitalized a forlorn industrial area, creating a bustling community for creative workers. In 1986, these two idealists engaged architect Eric Owen Moss for their first collaboration. Over 25 years, the Smiths acquired various properties within the tract and continued working with Moss on their ongoing experiment in planning, design, and community building.

The Hayden Tract has been recognized both for its architectural merits and its social impacts. Moss' projects for the Smiths have been recognized by the American Institute of Architects (AIA)/Los Angeles, Architectural Record and Progressive Architecture. Moss, himself, was awarded the AIA/LA Gold Medal in 2001. In 2003, the Urban Land Institute recognized "Conjunctive Points" (as the Samitaur projects are known) for its ability to stimulate growth in Culver City. By 2003, the Hayden Tract had generated 8,500 new jobs and occupancy in the area rose from 20% to nearly 85%. The Los Angeles Times declared the project a success with its headline, "Looks cool. Makes money."

Following an introductory presentation and a panel discussion with Frederick and Laurie Samitaur-Smith about their vision and collaborative development process, event attendees will take a self-conducted walking tour of over 20 buildings and art installations in the area. This will be followed by light refreshments at the Samitaur Tower and closing remarks. Come join us for this intellectually and visually stimulating look at what creative architecture and development can bring to a place.

CLICK BELOW TO ENLARGE THESE IMAGES