No Nails, No Lumber
SAH/SCC Lecture & Book Signing
Saturday, June 09, 2012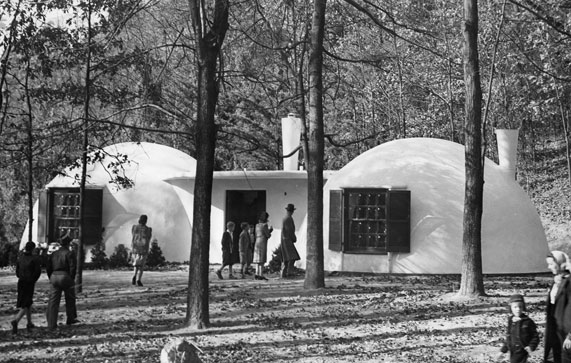 Join SAH/SCC Member and author Jeffrey Head for an in-depth look at this unusual facet of Neff's career when Head shares from his recent book, No Nails, No Lumber: The Bubble Houses of Wallace Neff (Princeton Architectural Press, 2011). The event is free and open to the public, and will be held at Santa Monica Public Library (Moore Ruble Yudell, 2006).

Despite plans for more than 400,000 of Neff's Airform buildings, a mere 2,500 were built. The last remaining bubble house in the United States is located in Pasadena. Head's extensive research, however, brings to light the former locations of hundreds of others in Southern California, as well as extant structures in Angola, South America, Africa, Mexico, Portugal, and Jordan.

Head's presentation will feature little-known images of these houses and shed light on the social agenda that made Neff far more than just an architect to the stars. Refreshments will be served and copies of the book will be available for sale and signing by the author.
CLICK BELOW TO ENLARGE THESE IMAGES