Carefree California
Cliff May Exhibit and Home Tour
Saturday, March 10, 2012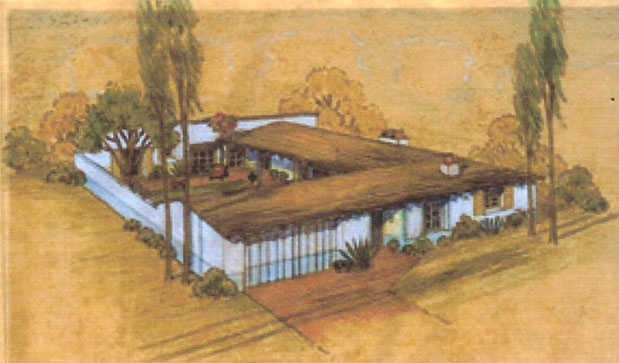 Join the SAH/SCC for a special behind-the-scenes tour of the exhibit, "Carefree Living: Cliff May and the Romance of the Ranch" at the University Art Museum, University of California, Santa Barbara (UCSB). For this exclusive event, SAH/SCC member and Curator of the Architecture and Design Collection, Jocelyn Gibbs, will lead the group through the exhibit, discuss the nuances of May's work, and its influence on the built landscape of postwar Southern California. The exhibit tour will be followed by a special visit to the architectural archive to view more gems from the Cliff May collection at UCSB.

Following our visit to the museum, attendees will visit the Cliff May designed Power Residence (1964) in Camarillo. The house is an excellent example of May's modern spaces in earthy materials; adobe brick and redwood board and batten. The plan features an indoor/outdoor pool space.

After World War II, magazines everywhere featured the California lifestyle: the mystique of the west, endless sunshine, indoor-outdoor living, and a relaxed and informal way of life. Of the ranch house, May said, "You need no memory of the past to enjoy this modernization of an old form." Perhaps no architect captured that collective moment in the American psyche better than designer, Cliff May.

Experience it for yourself on the day-long event that includes mini-coach transportation from West Los Angeles and a gourmet box lunch from Montecito's exclusive Pierre Lafond. Tickets are $79 for SAH/SCC members and $100 for non-members.

CLICK BELOW TO ENLARGE THESE IMAGES